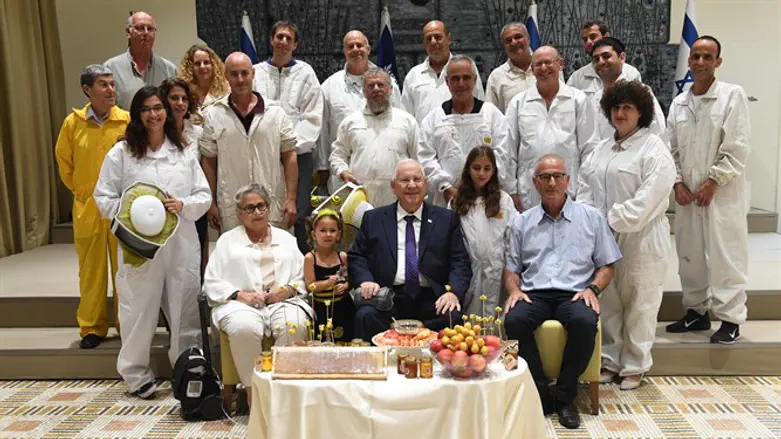 President with beekeepers
Mark Neiman/GPO
President Reuven Rivlin and his wife, Nechama today as every year hosted beekeepers from the Gaza area and representatives of the Honey Council in honor of Rosh HaShana.
The beekeepers who presented the sweet harvest to the President and Nehama brought with them honey of various kinds, including hyssop, citrus, thyme, clover, and avocado honeys.
"I'm very happy to have the opportunity to meet with you, the beekeepers of Israel, and I emphasize not from the Gaza envelope, but from the Israel envelope in the full sense of the word," said the President. "It's very important to talk about the bees and what's happening in our country as a result of natural damage and as a result of the threat that's been renewed upon us, the terrible fires in your area," he said. "The fires are affecting not only the public but also the entire ecosystem."
"This meeting is intended to strengthen you and tell the public that we have these wonderful people whose products add flavor to life," the President continued. "We appreciate and respect your abilities. Thank you."
Nechama talked about the honey her mother would buy during her childhood in the moshav, praised the flavors of the honey brought by the beekeepers, and said: "Continue preparing and producing honey, which we particularly love." At the end of the meeting, the President blessed the beekeepers for a very good and sweet year.
Honey Council Director Zeev Meidan said at the meeting: "This year, the beekeepers in the Gaza area suffered a severe blow. As a result of the arson in the south, over 200 beehives filled with honey and grazing areas were burned. Over 10,000 dunams of woodland and 6,000 dunams of natural grazing land. The damage was estimated at over NIS 2 million. We hope the beekeepers will be compensated for the heavy damage caused by the arson," said Meidan, adding: "The wonderful bee is really important to us for our health and the economy because bees pollinate more than a third of the agricultural crops that feed human beings. This bee is important to us and it's important to preserve it."
The meeting was attended by beekeepers from Moshav Gilat, Kibbutz Erez, Moshav Kalachim, Moshav Sde Nitzan, Moshav Nir Galim, and more. In addition, Israel Bee Growers Association Chairman Boaz Kanot participated.
Beehives destroyed by fire, two months ago: