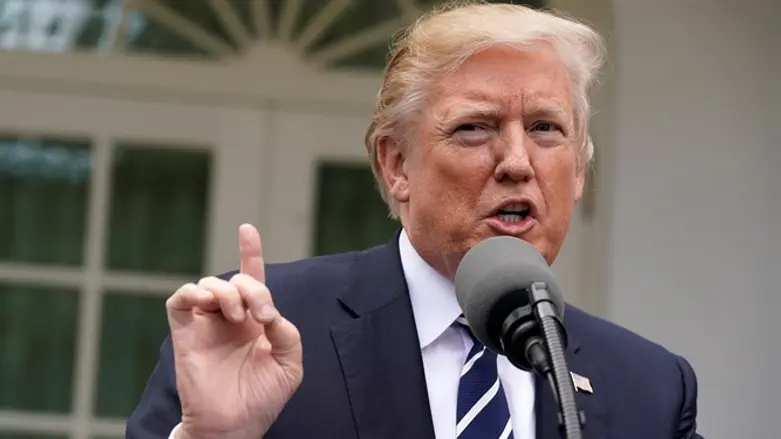 US President Donald Trump
Reuters
US President Donald Trump will announce in September his decision to end all funding to UNRWA, The Washington Post reported Friday.
In addition to cutting funds to UNRWA, the White House is expected to take the Palestinian Authority's insistence on the "Right of Return" for Arabs off the negotiating table and insist the organization slash the number of Arabs recognized as refugees.
UNRWA provides relief to some 5 million Arabs in Gaza, Judea and Samaria, Jordan, Syria and Lebanon. It uniquely among refugee agencies identifies multiple generations of descent as refugees; the UN High Commissioner for Refugees extends such recognition only to the second generation.
Trump will also request that Israel prevent UNRWA from operating in Judea and Samaria, in order to prevent Arab states from replacing the US funding with their own.
The decision is expected to be announced in September, the report said.
Officially, Israel supports the American decision, but a diplomatic source told Arutz Sheva last week that Israel's security officials oppose harming UNRWA and have told Washington that they fear such decisions will lead to an immediate humanitarian collapse in Gaza and is not interested in taking responsibility for handling such a crisis.
MK Sharren Haskel (Likud) said, "If this is implemented, it will be a very good thing and it will advance a solution to the conflict. UNRWA perpetuates the refugee problem instead of solving it, and invests in the refugee status. In the education system, they teach that armed struggle will allow over five million Palestinian refugees to return to settle in Israel."
"Only sanctions will force UNRWA to return to its original purpose and reform. This will eventually lead to taking the 'Right of Return' off the negotiating table... This is my main goal as chair of the Lobby for Reform with UNRWA, and these are the issues that I bring up in my meetings with ambassadors and representatives of donating countries."