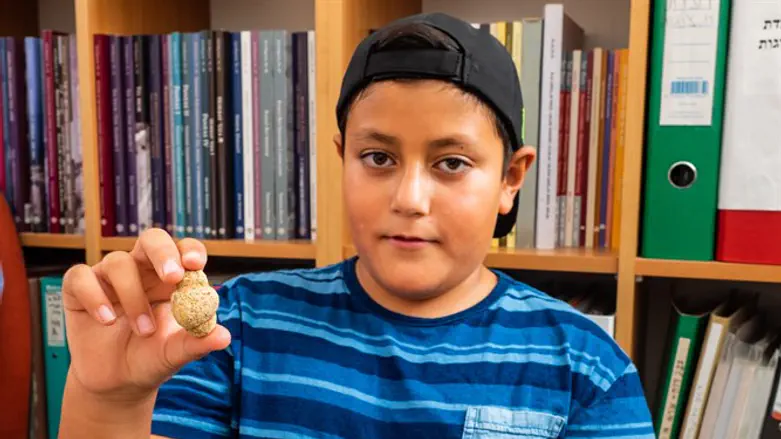 Itamar Barnea with his find
Asaf Peretz, Antiquities Authority
An intriguing piece of stone found by a child about two years ago during a trip to northern Israel turned out to be an ancient and rare fertility figurine.
Two years ago, eight-year-old Itamar Barnea, now a 10-year-old resident of Kibbutz Malkiya and archaeology aficionado, toured the area between Tel Kadesh and Nahal Dishon. There Itamar came across the find, put it in a box, and forgot about it.
About a month ago when Itamar's mother, Re'ut, was arranging the house, she noticed the interesting object and presented it to archaeologist Dr. Renata Rosenthal-Heginbottom, who passed the find to the Antiquities Authority for identification.
According to Israel Antiquities Authority Prehistory Branch head Yanir Milavsky, "We were surprised when we were presented with a rare figurine, a kind of idol - probably the third of its kind known in Israel, and about 11,500 years old. The figurine, which at first sight is hard to tell was man-made, is made of a pebble and measures 37x27x25 mm. It represents the figure of a pregnant woman, and is made by rubbing and etching pebbles. The rounded head is separate from the body by engraving, as is the scoring of the feet. Two similar (but not identical) figurines were found at Nahal Oren in the Carmel and Salvia in the Jordan Valley. These sites date to the beginning of the Pre-Pottery Neolithic period - about 11,000 years before our time.
"Unfortunately, we don't know the archaeological context of the figurine found in the Upper Galilee, but according to the study, these figurines were a symbol of human fertility, and some scholars see them as a 'mother goddess'. It is a period when the Near East and South Levant People moved to permanent settlements, engaged in agriculture, and began to domesticate animals and during this period, the issue of fertility in human society was very important.
"The Barnea family and the child Itamar demonstrated good citizenship in handing over the figurine to join the state's treasures. Itamar seems to have a promising future in the study of the nature and history of ancient cultures in Israel and the region." Milavsky wished to remind the public that "when we make a find during an excursion, it's important to report to the Israel Antiquities Authority from the same location, so that the archaeologists will be able to obtain the most information from the field at the time of discovery."