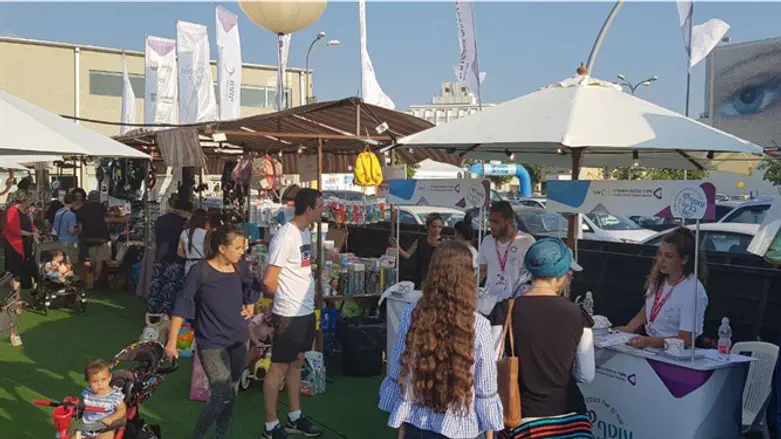 Gaza area communities' fair at Tel Aviv port
Yoni Kempinski
Dozens of stalls, activities, and lots of joy. That's what was seen by those arriving today at the Tel Aviv Port where the Otef b'Kef fair was held at the Economy Ministry's initiative, where products from communities in the Gaza area are being sold.
Economy Minister Eli Cohen arrived at the scene with Negev local council heads and invited the crowd to attend the three days of the fair (Tuesday through Thursday), "After difficult weeks of rockets and fires, it's time for us to come and strengthen them. It's the time of all the people of Israel to come here with the entire family," he said.
Sdot Negev Regional Council head Tamir Idan added, "We've long been not the perimeter surrounding the Gaza Strip, but rather the one protecting Israel. We feel we're protecting the people of Israel and the residents know that the Israelis are with us. We are sending from here a big hug to all our residents. We're happy the people of Israel came and we invite you both here and also to our communities during the holidays and to flood our perimeter protecting Israel with people so Hamas will see that we've won a civil victory; the military victory we leave to the army."
Economy Ministry Small and Medium Business Agency Director Ran Kivai said, "There are 60 different businesses here, and our goal is to bring them here to Tel Aviv and help them reach Tel Aviv. They've suffered a lot lately and we want to strengthen them."
"This is another activity of the Israeli government that is helping and contributing to the flourishing of our region, and this fair shows the moral participation of the State of Israel with the residents of the region," said Sderot Mayor Alon Davidi.
Davidi explained what he thinks should be done to help Sderot and its prosperity, "I turned to the Finance Minister asking he grant Sderot border-city status. This will allow us to respond to emergency situations and indirect damage. The request was received by him and I hope things will move."