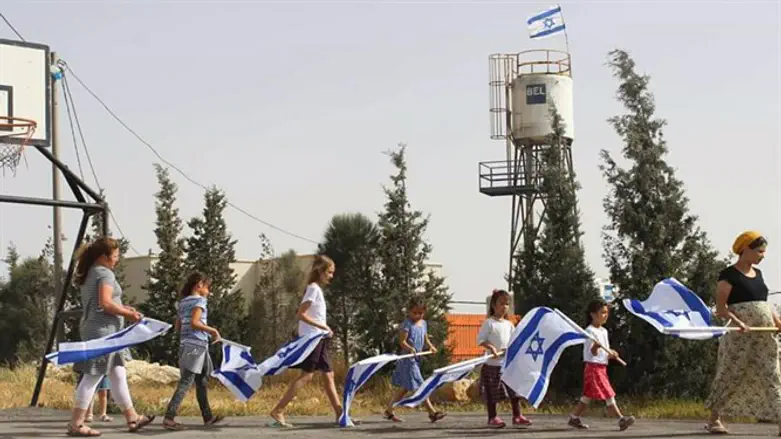 Mitzpe Yair
Har Hevron spokesperson
Yochai Dimri, head of the Har Hevron Regional Council, responded on Saturday night to the incident in which leftist activists from the Ta'ayush organization broke into the Jewish town of Mitzpe Yair during Shabbat.
The four activists claimed that they were in the area to take photographs and that they were attacked by local residents while doing so. They were lightly injured and transferred to a local hospital.
"After the activists of the anarchist Ta'ayush organization supported illegal Arab construction on state lands, they chose to disrupt the Shabbat quiet of the residents of Mitzpe Yair, entering private homes, photographing them and violating a closed military zone order in order to create a provocation. Any healthy person who experiences a break-in to his home would act to protect his home and his family and remove the invading criminals," said Dimri.
"The leftist activists, when they understood that they were about to be arrested, asked to be evacuated to the hospital, but from an examination we conducted in the hospital, they were simply putting on a show meant to produce headlines. We again call upon the IDF and the police to issue restraining orders against the group. Their presence causes violations of the law and harms our communities. Every community they come to later suffers from burglaries and thefts and massive illegal construction by Arabs. The time has come to put an end to this, once and for all," he added.
MK Bezalel Smotrich (Jewish Home) commented on the provocation as well and added, "Violent provocateurs who leave their home every Shabbat and travel many kilometers to encourage and cooperate with Arab rioters and trespassers who harm the settlement enterprise by using violence and endangering the lives of the residents. It is reasonable to assume that they were injured in the course of their own violence and that they are making up stories about the local residents, who at worst had to protect themselves from the rioters and invaders."
Responding to the incident, the IDF Spokesperson said, "This morning, several Ta'ayush activists arrived at a site near Mitzpe Yair where there is illegal Palestinian construction. After the construction tools were confiscated, the activists walked towards the town in order to provoke [residents], and a quarrel broke out between them and local residents."
"IDF soldiers who were at the scene declared it a closed military zone in order to prevent the continuation of the quarrel, but some of the activists refused to evacuate and violated the orders…the activists later left the area and the incident ended."