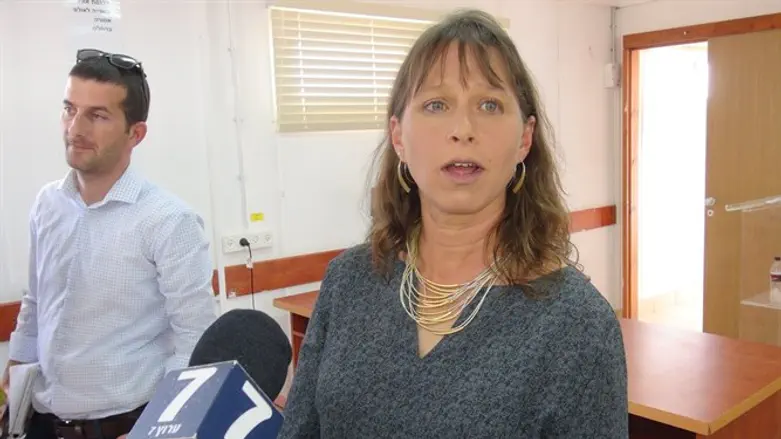 Hadas Mizrachi
Hezki Baruch
Hadas Mizrahi, the widow of terror victim Baruch Mizrachi, responded angrily to the Arutz Sheva report that the conditions at the Ofer Prison are being upgraded.
"Unfortunately, the news is not surprising or amazing. The State of Israel, consistently, spoils the terrorists in prison, gives them food of their own choosing and they cook for themselves. The soccer broadcasts of the World Cup that were supposed to be blocked remained open, proper guardians are transferred to terrorist wings and the state is ready to give everything for quiet," Mizrachi said.
She recalled that "while the fate of Gilad Shalit was not known and he was not visited by the Red Cross, while the fate of the soldiers Goldin and Shaul is unknown and there is no detail about them, while the conditions of imprisonment of Israelis held by Hamas are among the worst, the State of Israel spoils those who murdered its citizens. Committees for examining conditions of detention are being established and closed, and the situation remains the same."
"For the families it is difficult to know that the murderer of their loved one is alive and it is even more difficult to know that he lives in prison under the conditions of a five-star hotel. We demand an immediate end to the improved conditions and to compare the conditions of incarceration of terrorist murderers to those in which Israelis are held by Hamas," Mizrahi concluded.
Deputy Knesset Speaker MK Mickey Zohar also responded to the publication. "I very much hope that this is a necessary renovation, not an upgrade, and I intend to contact the Minister of Public Security in order to clarify the issue."
"It is inconceivable that despicable terrorists, abominable murderers, will receive extreme benefits and upgrades while their agents continue to hold the bodies of our soldiers," Zohar said.