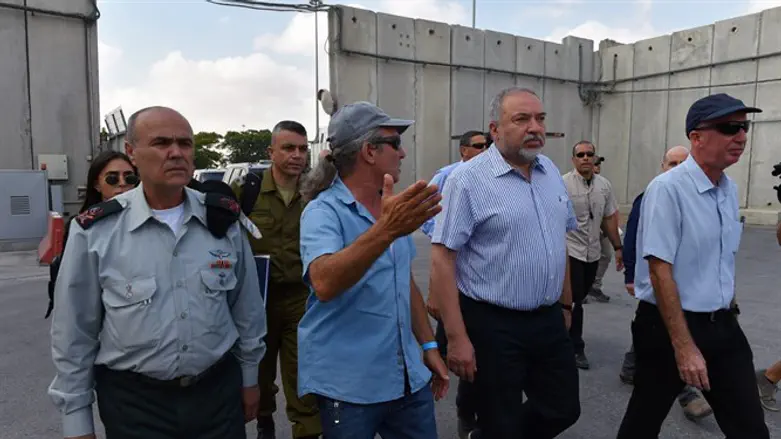 Liberman at Kerem Shalom Crossing
Ariel Hermoni, Ministry of Defense
Defense Minister Avigdor Liberman will hold an assessment Tuesday of the situation in the south with senior IDF and defense establishment officials and order the full opening of the Kerem Shalom Crossing and the re-expansion of the fishing zone off the Gaza coast.
A senior security official said that since Monday morning, for two days in a row, there has been complete quiet on the Gaza border, without kites and firebombs and without friction by the fence. Today there was one fire in the Gaza vicinity that was not caused by a firebomb.

The defense establishment wants to examine whether the quiet that has been maintained since yesterday is a signal from the other side, and if this is indeed a trend that will continue, Israel will consider further easing in the coming days.

In the background, we must remember the results of the IDF attack on Thursday and the destruction of the Hamas headquarters, as well as the events of the fence last Friday, in which three terrorists were killed and 150 Gazans injured.
"The goal is to show the street in Gaza that they have something to gain from the quiet and what to lose from the terror of the kites and the fence," the senior official said.