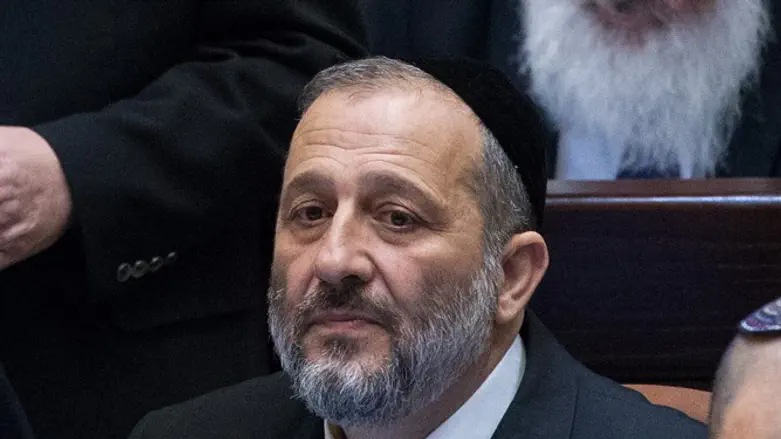 Aryeh Deri
Miriam Alster/Flash 90
A former senior police officer currently fighting his old employers has suggested that cops are seeking to frame Shas Chairman Aryeh Deri for a raft of criminal offenses.
Police have been probing Deri and his wife for alleged money laundering, fraud, breach of trust, theft, fraudulent registration, numerous tax offenses, and corruption since 2016.
Nir, who once headed the police's powerful intelligence division, has been fighting the police force, which he alleges is riddled with corruption. Nir has been on leave from the force for over a year and is currently negotiating a deal with the State Attorney in which he will hand over a slew of incriminating material in exchange for immunity from the various police investigations into his affairs.
According to a Channel 10 report, Nir alleges that the police are seeking to frame Shas Chairman Aryeh Deri and said that he was tasked in finding damaging information about the Interior Minister when he headed the police's intelligence unit.
According to Nir, senior police investigators had approached him and requested that he find any material that might justify opening a formal probe into Deri. Nir also claims to possess information he says proves that senior law enforcement officials successfully torpedoed Gal Hirsch's nomination to head the force in 2015 by framing him for bribery.
Police have been probing Deri for over two years and recent reports say that it will recommend that Deri stand trial for tax violations. However, Deri will not face indictments in the most serious investigations against him, which included suspicion of a series of corruption and bribery offenses. Another charge which he was expected to be indicted for was money laundering.
If police recommend that Deri be indicated, Attorney General Avichai Mandeblit must decide whether to move forward and bring the case to trial. The investigation is a combined effort of police, the tax authorities, and the Justice Ministry's anti-money laundering authority.
Suspicions were aroused in 2016, after reports surfaced of Deri owning multiple homes which were left unreported to tax authorities, including a villa in Moshav Safsufa that is allegedly worth millions.
Deri, who was convicted in 1999 of bribery and fraud for crimes committed while serving as Interior Minister more than two decades ago, served 22 months in prison and was released in 2002. He returned to the Knesset in 2013 and led the Shas party in the 2015 elections.