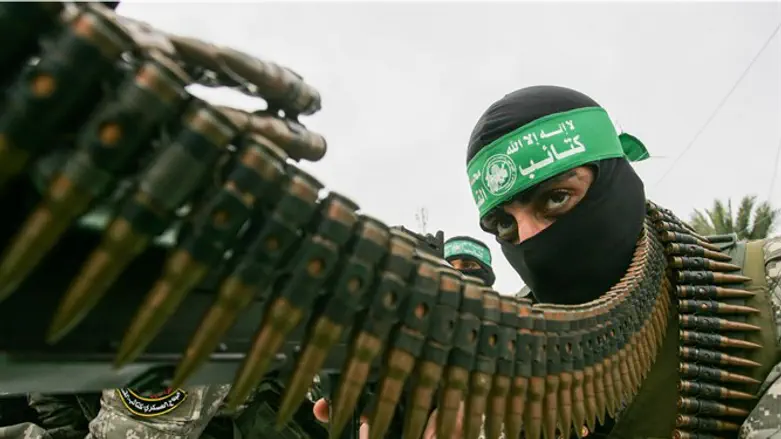 Hamas terrorist
Flash 90
Husam Badran, a member of the Hamas political bureau, said on Sunday that Hamas would not agree to establish a state in Gaza and would not reach any political arrangement without Palestinian national consensus.
Speaking at a Hamas meeting with representatives of the Palestinian Arab organizations in Gaza, Badran said that "the Hamas political bureau did not conclude the consultations it is holding, but we decided to update the organizations on the latest developments."
He stressed that decisions on peace and war and the signing of any peace agreement with Israel require national dialogue and national consensus, adding that the present circumstances allow for this.
Badran added that the meeting between Hamas representatives and representatives of the Palestinian Arab organizations was intended to discuss the issue of internal Palestinian reconciliation and the lifting of the siege on Gaza.
"The time has come for our (Palestinian) people to realize their natural right to life without giving up national principles," Badran said. "We live in a very dangerous and sensitive period in view of the discussion of the 'Deal of the Century' which is aimed at eliminating the (Palestinian) problem."
Members of the Hamas political bureau have been meeting for several days in Gaza to formulate a position on reconciliation with the Palestinian Authority and on the issue of a long-term ceasefire agreement with Israel.
Reports last week indicated that such a deal would involve a long-term cessation of hostilities between Israel and Hamas in exchange for a significant easing of the Jewish state's economic blockade of Gaza.
An agreement could allow international donors to fund a series of programs including electricity and water network upgrades in Gaza.
It could also cover a prisoner exchange with Hamas which holds the bodies of Hadar Goldin and Oron Shaul, two soldiers killed in 2014 during the counterterrorism Operation Protective Edge.
In addition to seeking an agreement with Israel, Hamas also needs to solve its ongoing feud with Fatah. The sides have been at odds since 2007, when Hamas violently took over Gaza from Fatah in a bloody coup.
Fatah and Hamas signed a reconciliation deal last October, under which the PA was to have resumed full control of Gaza by December 1.
That deadline was initially put back by 10 days and had later reportedly hit "obstacles".