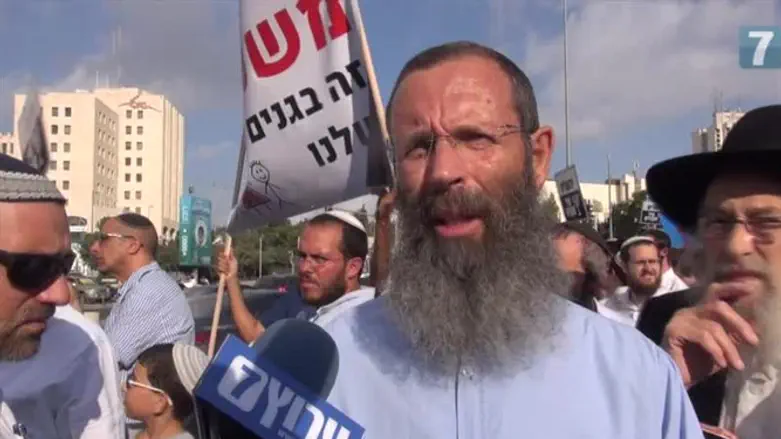 Rabbi Yigal Levenstien
Heski Baruch
Rabbi Yigal Levinstein, who co-head's the Eli pre-military academy, headed a counterprotest to Jerusalem's LGBT Parade on Wednesday and slammed Israel's efforts pass a Surrogacy Law enabling homosexual parents to conceive children.
"We want to legislate a law in the State of Israel that violates one of the gravest prohibitions in the Torah," he told Arutz Sheva. "The Jewish state that arose here 70 years ago has never enacted a public law against the Torah.
"We have returned after two thousand years to establish a Jewish state here and there is a discussion here about the character of the state."

According to Rabbi Levenstein, "the State of Israel as a state is not in contradiction to Judaism and not to the laws of the Torah ..On the personal level there is freedom for every person in the country, but as a state it has a Jewish character. This parade is something you cannot keep quiet about. "

Rabbi Levinstein noted that "this law harms everything that is dear to the people of Israel, in a country whose Jewish character is part of its essence, destroying the family unit and changing the family's definition for the first time, and we can not stand by and remain silent."
לא נשתוק על הריסת המשפחה
חזקי ברוך