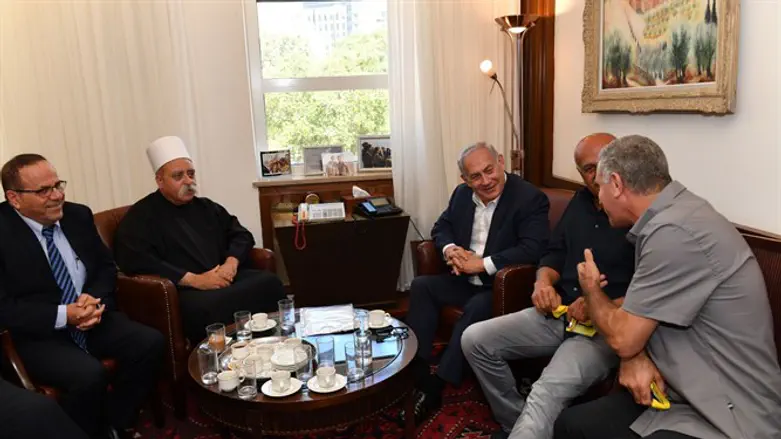 Netanyahu meets Druze leaders
Kobi Gideon/GPO
Prime Minister Binyamin Netanyahu on Wednesday proposed new legislation to end the controversy in the Druze community over the Nationality Law.
The legislation would anchor the status of the Druze and Circassian communities. The law will also recognize the contribution of those communities to the security of the state and will include support for community institutions, the strengthening of the Druze communities and the establishment of additional settlements as necessary, as well as the preservation of the heritage of the Druze people.
The plan was formulated by the team headed by its director general Yoav Hurvitz, Sheikh Muafak Tarif and ministers Ayoub Kara and Yariv Levin. The new legislation will be anchored in the law of the eligibility of minorities from all religions and communities serving in the security forces for various benefits.
It was also decided to introduce into the law the recognition of the contribution of all minority members taking part in the defense of the state.
At the same time, a ministerial committee headed by Netanyahu will be formed to deal with the Druze community, advance the proposed outline and supervise its implementation.
Communications Minister Ayoub Kara responded with satisfaction to the outline. "I am excited to see the warm embrace of the community, and the results we have managed to bring to the Druze sector, and in general. The constitutional problem that is claimed to exist in the national law will be resolved by additional legislation in the Basic Law of the Army, in which the state recognizes the contribution of those serving in the army, Druze and Circassians, and gives them preference in housing."
"We have received a promise of support for the religious institutions and preservation of the Druze heritage, strengthening the Druze communities, including building new settlements and solving the problems of illegal construction," he said.