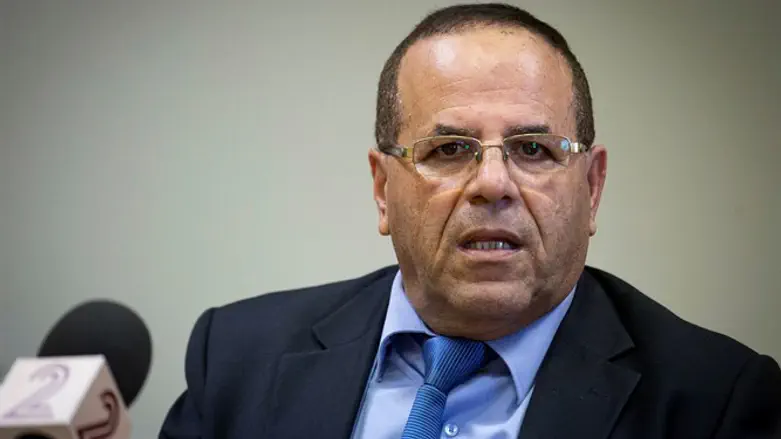 Ayoob Kara
Hillel Maeir/TPS
Communications Minister Ayoob Kara (Likud) is continuing to receive threats to his life following the approval of the Nationality Law, Hadashot TV reported on Thursday.
According to the report, on the night between Tuesday and Wednesday, two men waited outside the minister's home in the Druze town of Daliyat al-Karmel near Haifa. When Kara returned to his home, the two threw rocks towards the building. They fled after the security guard stationed at the door of the minister's house noticed the rocks.
Sources close to the minister filed a complaint with the police following the incident, according to Hadashot TV.
Minister Kara said, "The culture of incitement in the State of Israel has crossed every line. Unfortunately, the threats have turned into acts that harm me and my family. I will continue to fight for the benefit of the Druze sector."
Earlier this week, the Magen unit, which is responsible for the security of VIPs, decided to increase security around Kara's home in light of threats he received following his support for the Nationality Law.
Kara later blamed the Joint List party for the death threats he has been receiving.
"I am not deterred by the incitement and the threats against me and my family and am not afraid," he said. "I will continue to represent the members of my community with dignity and pride - I did in the past and will do so in the future."
"The Nationality Law does not turn us into second class citizens - on the contrary, it complements and does not contradict the Basic Law: Human Dignity and Liberty. The new law in no way detracts from the individual rights guaranteed to all the citizens of Israel," he continued.
"The Nationality Law also grants special status to the Arabic language, which will not be harmed, and regulates its use in state institutions. I continue to stand behind my vote - and threats to my life will not change my firm nationalist and Zionist views," stressed Kara.