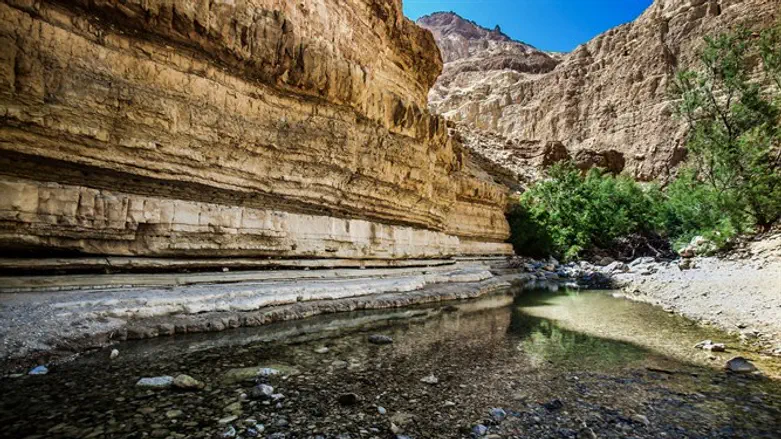 Arugot River valley in Dead Sea area
Flash 90
Civil Administration's Supervision Unit Director Marco Ben Shabat referred to the environmental protection and nature conservation conference on the problem of the damage to the "conservation reserve" in the Judean Desert and the efforts to deal with it.
The conference was initiated by the Kfar Etzion Field School in cooperation with the Hebrew University, in which the issue of the nature reserve in the Judean Desert established under the Oslo Accords was raised and responsibility for its preservation was entrusted to the Palestinian Authority.
"Since 2017, we began work against quarries and damage to the Arugot and Tekoa area," said Ben Shabat, "We found six quarrying areas that caused irreparable damage to the mountain, and another 86 pirate quarrying areas. One must also take into account the fact that the waste dumped in the area near riverbanks and streams end up on rainy winter days at the Dead Sea."
Marco ben Shabat
Kfar Etzion Field School
Ben Shabbat noted that "the agreement defining the area of ​​the Judean Desert as a 'conservation reserve' (a nature reserve within the Palestinian Authority and under its responsibility) prohibits transformational change. In the survey, we mapped 691 structures between Nahal Arugot and Umm Daraj. For the sake of future generations, we must see how to stop this trend," he said.
Kfar Etzion Field School head Yaron Rosenthal responded: "We're pleased that after two years of activity that included a comprehensive quarrying survey and a public struggle, the members of the Civil Administration set a goal of stopping the illegal quarrying phenomenon. I expect them to act with the same determination with regard to 691 structures that were 'discovered' in the contractual reserve."