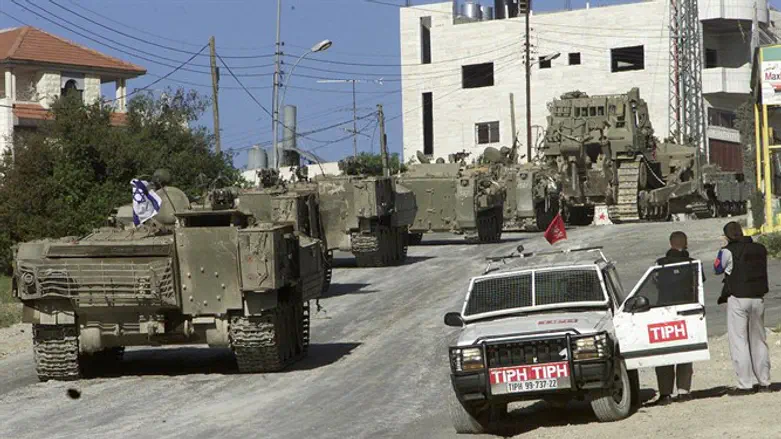 TIPH follow Israeli troop movements, Hevron
Reuters
The parents of a child attacked in Hevron are demanding that the Temporary International Presence in Hebron (TIPH) organization pay their family 75,000 NIS ($20,573) in compensation.
Two weeks ago, a TIPH foreign observer slapped the child hard on his face.
TIPH is a force of foreign citizens who are intended to be objective observers in Hevron. Sometimes called "European anarchists", TIPH has existed in its present form since 1997, and calls Israeli presence in Hevron "occupation."
Demanding the money from TIPH, the Honenu legal organization wrote, "This employee was documented as slapping the face of a minor with great force. The organization took responsibility for the incident and sent the employee out of the country."
"The organization is now asked to take responsibility for this incident...and to pay appropriate compensation to the minor for the attack.
"Attacking a minor with such great force is an injustice according to all laws and standards.
"The unusual force of the slap that the observer gave the minor's face shows the hate, the loathing, and the danger which that observer presents to the Jewish public. TIPH did well when they removed the attacker from Israel, but it must also pay the damages and compensate the minor.
"Besides for that, we expect the State of Israel too bring the attacker too justice."
Earier this week, Arutz Sheva exposed a TIPH observer puncturing the tires of an Israeli car.
On Tuesday, Israeli Prime Minister Binyamin Netanyahu ordered the TIPH commander to be summoned for "clarification" by Israel's Foreign Ministry.
ניקוב הצמיגים על ידי המשקיפים הזרים בחברון