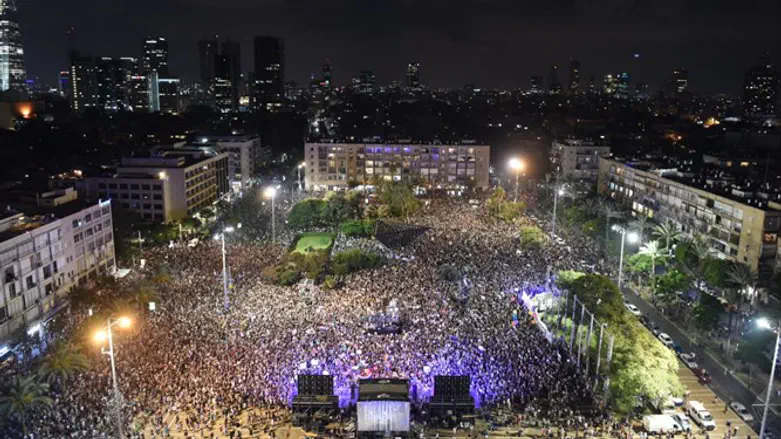 LGBTQ protest in Tel Aviv's Rabin Square
Kobi Richter/TPS
The Likud party, led by Prime Minister Binyamin Netanyahu would receive 30 Knesset seats if elections were held today, according to a survey published Tuesday evening in News 2.
According to the survey, the Yesh Atid party would place second with 19 seats, the Zionist Union would receive 15 seats, and the Joint Arab List would receive 12 seats.
The Jewish Home would receive eight mandates, while United Torah Judaism, Kulanu, and Yisrael Beiteinu parties would receive seven seats each. Shas, Meretz, and the new party led by Orly Levi Abekasis would receive five seats each.
The poll also found that 55% of Israelis support the recent LGBTQ protests against the exclusion of same-sex couples from the recently passed surrogacy law. Only 33% oppose the protests.
According to the poll, even voters for the right-wing Likud and Jewish Home parties showed high support for the protests. Among Likud voters, 51% support and 42% oppose the protests. Jewish Home voters support the protests by an even larger margin, 58% to 40%.