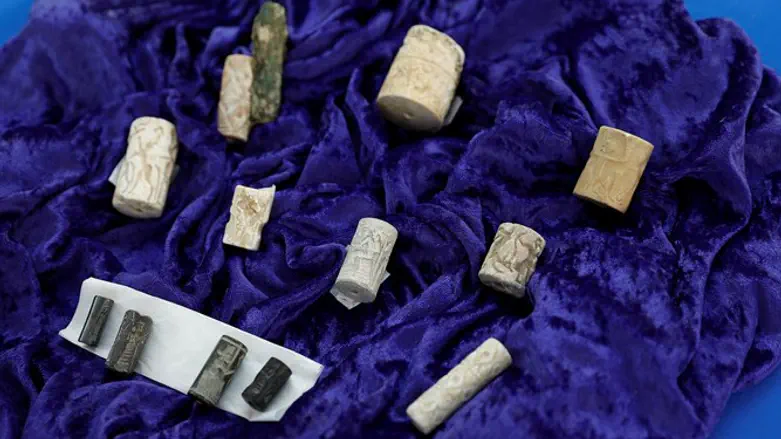 Iraqi artifacts on display at the reatriation ceremony
Reuters
The State Department says it is working with Iraq to extend the stay of a trove of Jewish artifacts from the country, while a bipartisan group of senators introduced a resolution recommending that the items not be returned as planned in September.
"We continue to work with the Government of Iraq and relevant stakeholder[s] to extend the exhibition in the U.S.," a State Department official told JTA in an email on Thursday.
Last year, the State Department said that it would return the Iraqi Jewish Archive in September 2018, to the dismay of activists who argue that the collection of thousands of Jewish religious and personal items should be accessible to the Iraqi Jewish community, which fled the country amid anti-Semitic persecution.
On Wednesday, following discussions in the Senate, a group of lawmakers introduced a resolution recommending that the U.S. renegotiate the archive's return and keep them in the United States.
The measure was introduced by Sens. Pat Toomey, R-Penn., Charles Schumer, D-N.Y., and Richard Blumenthal, D-Conn., with Sen. Marco Rubio, R-Fla., as a co-sponsor.
"These invaluable cultural treasures like a prayer book and Torah scrolls belong to the people and their descendants who were forced to leave them behind as they were exiled from Iraq. The State Department should make clear to the Iraqi government that the artifacts should continue to stay in the United States," said Senate Minority Leader Schumer, who has been active in arguing for the archive not to be sent back.
In 2003, U.S. troops discovered the archive in the flooded basement of the Iraqi secret service in Baghdad and brought it back to the United States.
The items include books, religious texts, photographs and personal documents left behind by Jews who fled the country amid intense persecution in Iraq in the 1940s and 1950s, with the remainder feeling Iraq by the end of the 20th century. Under an agreement with the government of Iraq, the archive was to eventually be sent back there.
The U.S. government spent over $3 million to restore and digitize the archive, which has been exhibited across the country. The trove includes a Hebrew Bible with commentaries from 1568, a Babylonian Talmud from 1793 and an 1815 version of the Jewish mystical text Zohar.
In addition to saying the artifacts should be kept accessible to Iraqi Jews, activists also question whether Iraq would properly take care of the items were they to be sent back.
Iraq and proponents of returning the archive say it can serve as an educational tool for Iraqis about the history of Jews there and that it is part of the country's patrimony.