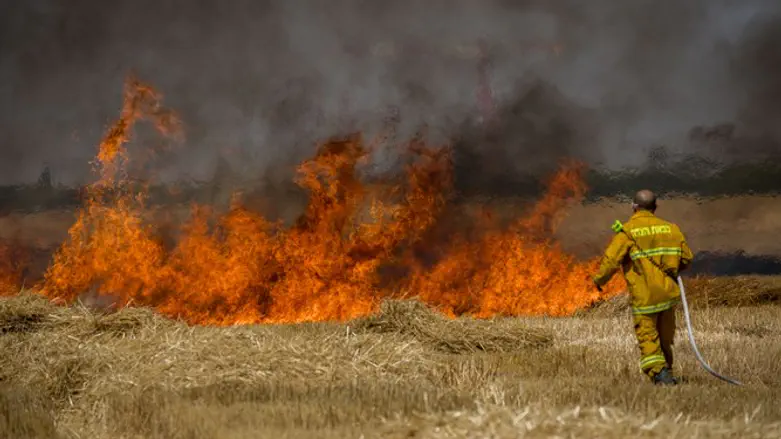 Fire in Gaza Belt
Yonatan Sindel/Flash 90
The former commander of the IDF's Gaza Division, Maj. Gen. (res.) Israel Ziv, said on Tuesday that military action will not be enough to stop Hamas in Gaza.
"In the end, when we rely solely on the military ability to operate against Gaza from the outside, there are limitations and we are close to exhausting this activity," Ziv said in an interview Radio Darom 101.5FM.
He added that "the ones who are causing the escalation and who will eventually bring about the war are Hamas, not us. I suggest dealing with the situation in a more realistic manner and that we understand that the clock is ticking and not necessarily in our favor."
"We are headed toward another military move that cannot be a repeat of the previous one. It must not end only with military thinking. We must solve the problem of Gaza in a comprehensive manner," Ziv concluded.
His comments came as the arson terrorism from Gaza continues, despite a "ceasefire" declared by Hamas and the Islamic Jihad on Saturday night, following a barrage of 200 rockets on southern Israel.
In addition to the rocket firing, terrorists have continued to fire balloons and kites rigged with firebombs and other makeshift incendiary devices into Israeli territory.
Thousands of acres of farmland, crops, and nature reserves have been destroyed by the fires, causing millions of shekels in damage and killing numerous animals.