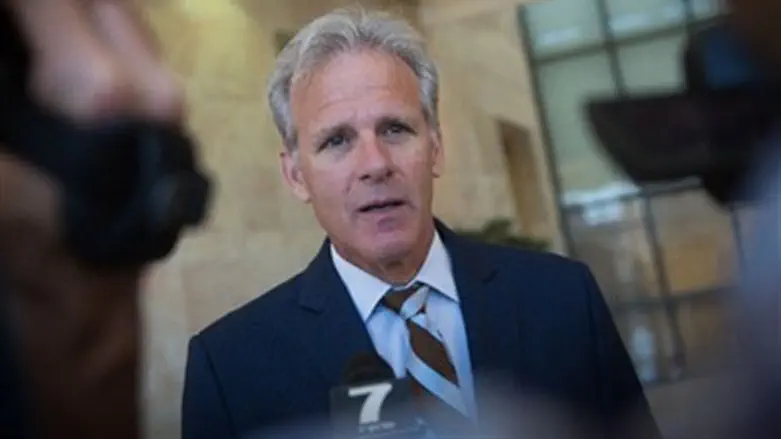 MK Michael Oren
Miriam Alster (Flash90)
While critics of President Donald Trump blasted his meeting with Russian President Vladimir Putin on Monday, both President Trump and senior Israeli leaders seemed optimistic that the closed-door meeting in Helsinki, Finland may have yielded important strategic understandings between the world's largest nuclear powers regarding one of the most explosive geopolitical issues.
Pundits, Democratic lawmakers, and even some Republicans excoriated President Trump over the meeting, claiming the president walked away from the two-hour meeting with Putin empty handed.
"President Trump proved not only unable, but unwilling to stand up to Putin," Senator John McCain (R-Az.) said in a statement Monday.
Others, including Senator Lindsey Graham (R-SC) warned that Putin was unlikely to help the US and Israel in removing Iranian and Hezbollah forces from Syria a key goal of Israel. Leaving the Assad regime in place – a Russian demand – would invariably mean retaining Iranian Revolutionary Guard forces in Syria, Graham said in a veiled criticism of Prime Minister Binyamin Netanyahu.
The president, however, appeared confident that he had secured "good conclusions" with Putin during the meeting, which would improve security in the region and benefit Israel.
"We came to a lot of good conclusions. A really good conclusion for Israel, something very strong."
Prime Minister Netanyahu also expressed satisfaction with the results of the meeting, saying he was heartened by commitment to Israel's security expressed at Helsinki.
Despite suggestions that the apparent agreement vis-à-vis Syrian and the future of Iranian forces deployed there will have little practical impact, Deputy Minister in the Prime Minister's Office and former Israeli Ambassador to the US Michael Oren (Kulanu) suggested that there is in fact reason for Israel and the Trump administration to be optimistic.
While Russia in the past has endorsed the removal of Iranian forces from the Israeli border, the Kremlin could also become an integral partner in the effort to remove Iran's Revolutionary Guard and allied Shi'ite militias – including Hezbollah – from Syria entirely.
"There is definitely reason to be optimistic that President Trump's meeting with Putin will influence Russia to work to stabilize the region, and end Iran's military presence in Syria," Oren said in an interview with Arutz Sheva.
"I think Putin can and will play a role in what is Israel's ultimate goal - removing Iranian and Iranian-allied forces from Syria completely. Not from just the frontier area near Israel's border, but the full withdrawal of Iran's forces from Syria."
Ultimately, argued Oren, it is in Russia's own interests that Syria be rebuilt without the presence of Iranian military forces – something which could impair the Assad regime's efforts to maintain stability once the civil war has ended.
"I think there is now emerging something of a confluence of interests. At early stages in the Syrian civil war, there was a division of labor, if you will, between the different forces in Syria, with Russia providing the airpower, and Syria and Iran providing the boots on the ground.
"Now, however, with the war in Syria winding down, I think Putin is seeing that it is also in his interests to pull Iranian forces out of Syrian territory.
"The Russians have an interest in stabilizing Syria. They want to start the process of reconstruction. Our message to the Russians is: As long as Iran is working to establish itself militarily in Syria and to transform our Syrian border into an actively hostile border, then there will never be stability in Syria.
"Just withdrawing Iranian forces from the Israeli border is not very helpful when the army has rockets that can be launched from a distance of 200-300 kilometers. That is the major Iranian threat in Syria. Simply removing Iranian forces from the border will not suffice."