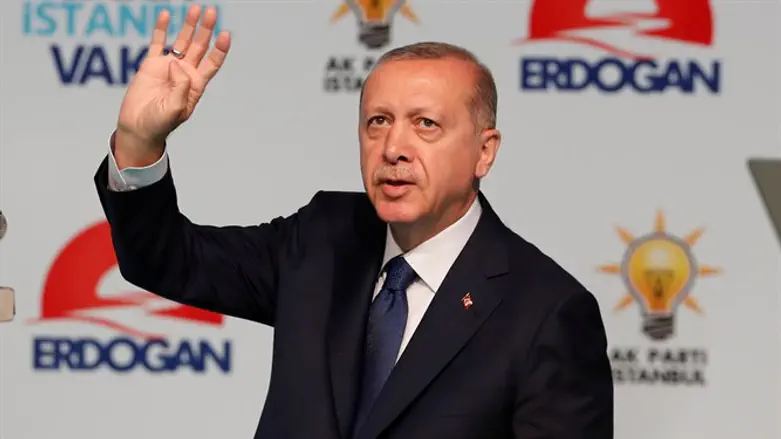 Recep Tayyip Erdogan
Reuters
Four recent graduates of a top Turkish university have been arrested for displaying a cartoon mocking Turkish President Recep Tayyip Erdogan at their graduation ceremony, Reuters reported Wednesday.
The Middle East Technical University students in the July 6 ceremony in Ankara made and carried a long banner printed with a cartoon of animals whose faces resembled Erdogan, entitled "The World of Tayyip".
Originally published by a popular satire weekly magazine, the cartoon was the subject of a defamation lawsuit by Erdogan 12 years ago, when he was Turkey's prime minister. An Ankara court dismissed the case at the time, saying the cartoon was within the limits of freedom of speech.
Turkey's Anadolu news agency said the four had been "arrested ... in the course of an investigation into a sign containing defamation of Erdogan".
This is not the first time that Turkish citizens have been arrested on charges of mocking or insulting the president.
Turkey has cracked down on dissent since a failed coup in July of 2016, with tens of thousands of people having been detained, suspended or sacked during that time.
Even before the failed coup attempt, Turkey has seen spiraling numbers of journalists, bloggers, and ordinary people - even schoolchildren - being taken to court on charges of insulting Erdogan and other top officials.
Examples include a 17-year-old teen who was charged with "insulting" Erdogan on Facebook, a Turkish philosophy professor who was accused of insulting Erdogan in an article in which he accused the president of corruption, and even the former Miss Turkey who was prosecuted for social media posts deemed to be critical of Erdogan.
In December of 2016, the head of a cafeteria at a Turkish opposition Cumhuriyet newspaper was detained for insulting Erdogan after saying he would refuse to serve him tea.
Erdogan in 2015 filed a criminal complaint against the Cumhuriyet newspaper and its editor for publishing images allegedly showing trucks belonging to the state intelligence service helping send weapons to rebels in Syria.