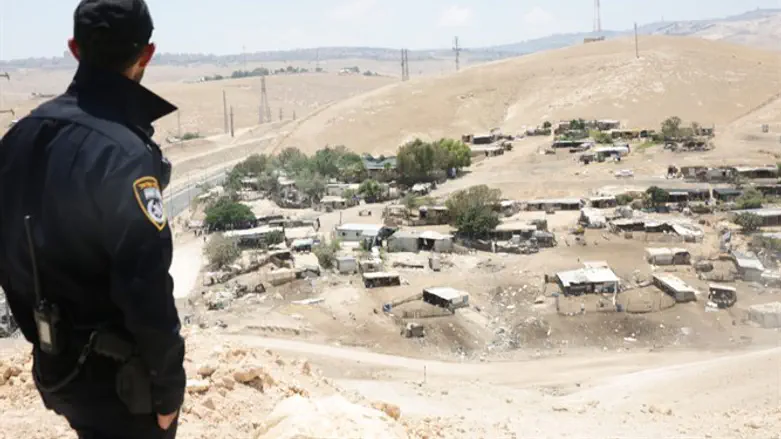 Khan al-Ahmar
Hillel Meir/ TPS
​The Israeli Regavim NGO on Friday responded to the Supreme Court's
decision to delay the demolition
The outpost Khan al-Ahmar sits partly on land belonging to the Israeli town of Kfar Adumim. It was built with funds from European countries. The Regavim NGO initiated legal proceedings almost a decade ago in an effort to compel the Israeli government to enforce the law in the Maaleh Adumim area, as it has in Amona, Migron, Netiv Ha'avot, and West Tapuach.
Area C is the only area in Judea and Samaria which Jews are allowed to enter, live in, and build in. Area A is controlled both militarily and civilly by the Palestinian Authority (PA), and Area B's security is under IDF control, but under the PA's civil control. Arabs live and work safely in all three areas.
"European countries initiated and funded illegal construction throughout this area, with the stated goal of assisting the Palestinian Authority's efforts to seize control of the Maaleh Adumim region and establishing facts on the ground in the service of a de facto Palestinian state," Regavim said in a statement.
"Adding insult to injury, they now exert completely inappropriate pressure, through radical leftist organizations and the cynical abuse of Israel's judicial system, to suspend law enforcement against the illegal outpost at Khan al-Ahmar.
"For over a decade, at least four Supreme Court panels found the claims of the Palestinian Authority and their EU-funded lawyers unfounded. The decisions of the Supreme Court must be enforced – equally and without capitulation to cynical, hypocritical manipulation, if the Israeli system of law, and Israel's sovereignty in general, are to be taken seriously at home and abroad."
The State of Israel has spent millions creating a new, modern, legal neighborhood for the residents of Khan al Ahmar. Each family has been allotted, free of charge, a fully-developed residential plot, complete with running water, electricity, access roads, and more – despite the fact that the Jahalin Bedouin of Khan al-Ahmar are residents of the Palestinian Authority, which has never made the slightest effort to rehouse them or improve their living conditions.
Regavim's spokesperson added: "The case of Khan al-Ahmar has become a litmus test for the State of Israel. The government must take a firm stand in the face of the pressure campaign that is being waged against it, and complete the relocation of the residents of this illegal outpost."