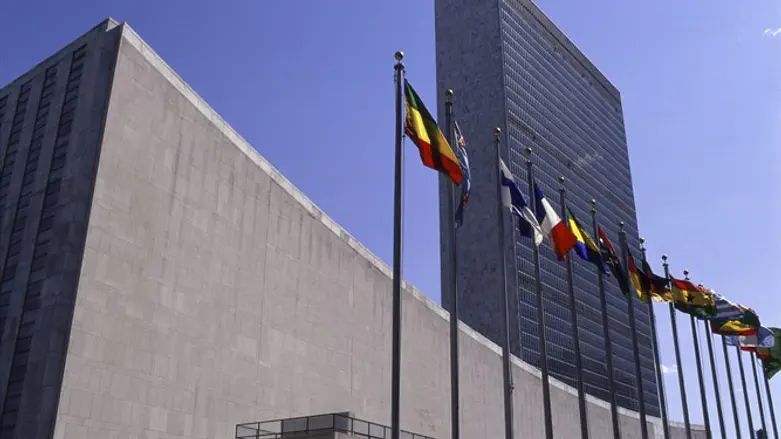 United Nations Headquarters
Thinkstock
The United Nations has called on Israel not to demolish an illegally-built Bedouin community east of Jerusalem, demanding the Jewish state legalize the homes in the village, which were built without building permits on land allotted to a Jewish town in the Adumim bloc.
Khan al-Ahmar, first built by squatters in the 1990s, today is home to close to 180 Bedouin. The outpost was built within the municipal boundaries of the existing Israeli town of Kfar Adumim east of Jerusalem along Route 1, the highway which links the capital with the Dead Sea.
Built in part with the assistance of foreign government aid, Khan al-Ahmar has lost successive legal battles in the Israeli court system, culminating in a ruling from the Supreme Court green lighting Khan al-Ahmar's evacuation and demolition.
Land theft watchdog organizations say that despite the ruling, the government has been dragging its feet with regard to the demolition, failing to meeting deadlines set by the court.
Foreign pressure on Israel to legalize the unauthorized Bedouin outpost has increased in recent months, with both the European Union and United Nations calling on Israel not to demolish Khan al-Ahmar.
On Tuesday, the United Nations High Commissioner for Human Rights demanded Israel legalize the town, claiming that Israel lacked authority to enforce construction laws in Judea and Samaria.
"We call on the Israeli authorities not to proceed with the demolition, to respect the rights of residents to remain on their land and have their status regularized," said UNHCHR spokeswoman Liz Throssell said.
The UNHCHR claimed that demolishing the illegal town would be in violation of international law.