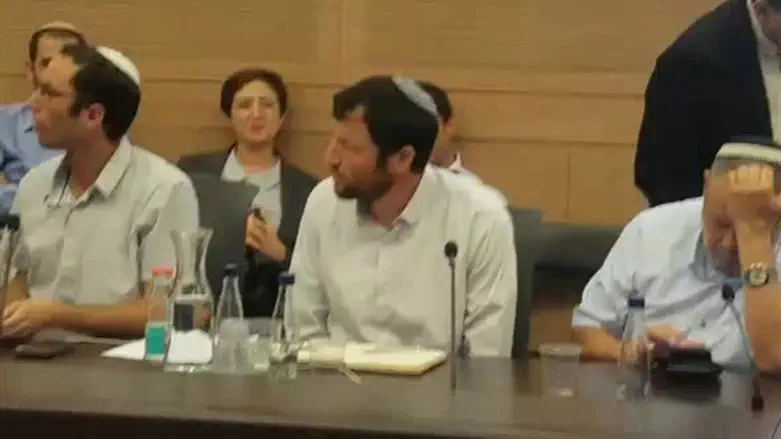 'No reason not to reach an arrangement' - Adler
צילום: עצמי
The Knesset Interior Committee today held a discussion on the issue of illegal outpost settlement, initiated by MKs Yoav Kisch (Likud) and Betzalel Smotrich (Jewish Home).
Yesha Council Chairman Hananel Dorani said in the discussion, "Almost a year after the decision to set up the team for regulation, we're in a situation where there's a head of staff, but he has no team and he's actually sitting alone at the table.
"All standards decided upon by the Civil Administration and the Prime Minister's Office actually don't exist, and in fact he's trying to work alone and the results are accordingly. Nothing's happening," Dorani said.
"The settlement team was supposed to provide solutions and answers to people who built homes on state land in Judea and Samaria, received permits, received mortgages, and in fact a blue line staff of the Civil Administration took their homes off state land status and turned them into criminals against their will. There are about 3,000 houses of this kind - even this hasn't yet been settled. There are tools to deal with it determined by the Zandberg Committee. What's needed is good will so this thing will happen.
"It's not only about regulating the existing situation, but also regulating the future. There are those who act as if there's a state within a state, and I mean the Legal Advisor for Judea and Samaria, who acts according to his own policy which is contrary to government policy. Unfortunately, now they're only trying to put out fires, but if there's no change in the Judea and Samaria Legal Advisor, the fires will continue to burn."
Yesha Council Director Shilo Adler said in the committee, "This isn't a proper division, there's a matter here that's a civil issue and not a political matter. At the moment there's no partner and there's no way to discuss policy. There's an understanding here that suddenly the Left's concern for someone who doesn't receive his rights suddenly disappears. It's not right to make this distinction. The Left's parties and organizations make an erroneous distinction. Suddenly when it comes to Jews, suddenly when it comes to Israelis, suddenly when it comes to people who do army service, reserve duty, taxpayers, suddenly this concern disappears.
"There's a political interest here that we saw that every such incident, like Netiv Ha'avot and Amona, drags the whole country into dealing with this issue and we don't need to get to that. There's no reason why we shouldn't reach an orderly arrangement, set clear rules. The councils that meet the rules will be regulated - and those who don't - the councils will have to deal with, as councils do in some places today."
Adler added: "We have an historic window of time that is rare, it allows us to do this at the national level, even at the international level, both at the level of the committee that was established and the interests within it. I think if the committee decides - as it appears in a government decision - to meet once every three months, and if the other organizations and government representatives and various ministries join this discussion, it'll be possible in the near future to see the products of the committee of people who will be appointed on this matter."
"יועמ"ש איו"ש מנהל מדיניות עצמאית"