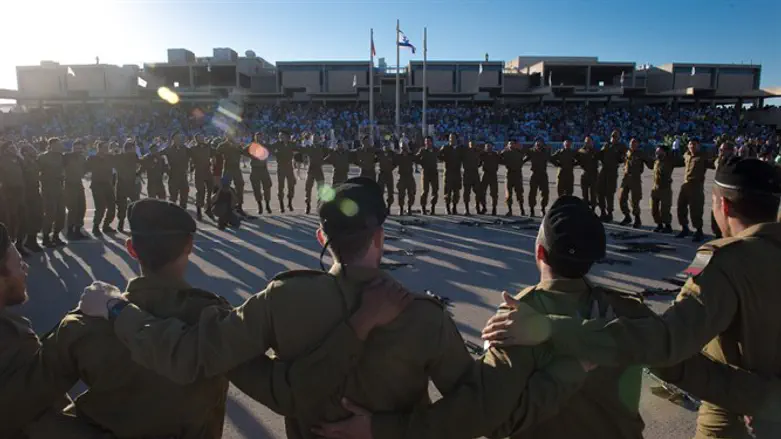 Officers course
IDF spokesperson
A new survey conducted for the Middle East Forum and the Israel Victory Plan showed that 65% of Jews in Israel believe that Israel needs to be victorious in its conflicts with "Palestinians" in order to end the conflict.
The survey was performed by the Smith Institute, and included 800 adult Israeli Jews.
According to the survey, 77% of those questioned said the IDF must aim to militarily defeat Hamas or Hezbollah in he next round of fighting and that we need to "allow the IDF to win."
When questioned about US President Donald Trump, 59% of Israelis said they believe Trump is the most pro-Israel president ever, and 25% said they fear that in the future, Trump will "charge" Israel for his support. Twenty-one percent of respondents expressed concern that Trump will one day recognize a "Palestinian" state whose capital is Jerusalem, while 62% said they have no concern that such a thing will occur.
Most Israelis still see Jerusalem and the Palestinian Authority's "refugees" as the greatest obstacle to peace: 24% see Jerusalem as the greatest obstacle and 25% believe the "refugees" are the greatest obstacle.
When asked about the Oslo Accords, 68% said Oslo was a "failure" and 67% believe that "land for peace" cannot be a basis for future negotiations with the Palestinian Authority (PA). An additional 58% believe that PA recognition of its defeat is crucial to ending the conflict.
Most Israeli Jews believe that the reason for PA Arabs' enmity towards Israel is not related to relations between the sites, but rather to Islam's worldview: 38% believe the hatred stems from Islam, 21% believe it stems from Israel's "occupation," and 3% believe Israeli towns in Judea and Samaria are the main issue.
When asked how to bring the PA to recognize Israel as a Jewish country, 39% of respondents said they believe diplomatic negotiations are the best option, while 28% believe defeating the PA is the best option, and 23% believe economic sanctions will do the job.
Middle East Forum Director Greg Roman said, "The results of this survey clearly tell Israeli leadership that the approach which has been taken until now must change.... Israelis across the entire political spectrum have lost faith in political processes such as Oslo, and understand better the need for victory and defeating [enemies]."
The findings will be presented at a conference held on Tuesday by the Knesset's Lobby for Promoting the Recognition of the Israeli Victory.
The Lobby, which is headed by Yisrael Beytenu's MK Oded Forer, Yesh Atid's MK Elazar Stern, and Likud MK Avraham Neguise, includes 26 MKs from most of the Knesset's parties. These MKs believe that the Israeli-Arab conflict will only end when the PA leadership recognizes Israel as the nation state of the Jewish people and admits that it was defeated in Israel's wars.
The Lobby works in coordination with the US Congress' Congressional Israel Victory Caucus.