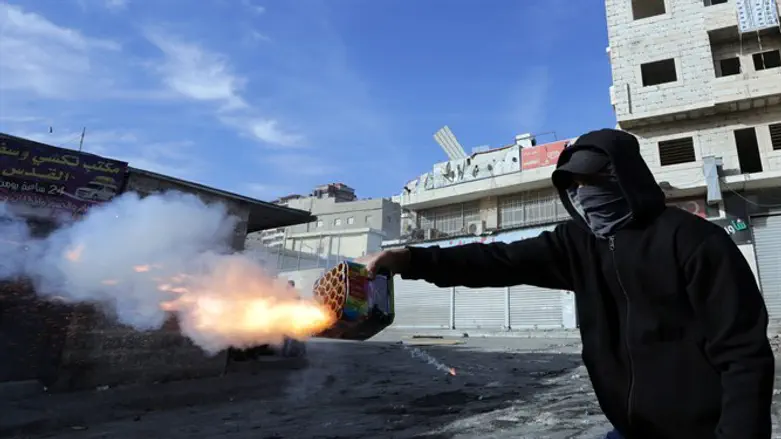 Arab rioter shoots fireworks at Israeli police
Sliman Khader/Flash 90
Arab rioters in eastern Jerusalem looking to cause bodily injury to Israeli police or Jewish residents have in recent years begun using fireworks as a makeshift weapon.
Cheap, easy to procure, and often legal, fireworks have become the projectile weapon of choice of many east Jerusalem rioters.
As Israeli police crackdown on the use of fireworks as a weapons by rioters, it has become apparent that, in at least some cases, the fireworks are obtained from Jewish dealers who at times are even aware of the intentions of the buyers.
That's the case in a recent arrest of a 70-year-old Jewish Israeli man from Kiryat Ono, just outside of Tel Aviv.
Police say the suspect sold 20,700 fireworks to an east Jerusalem man who planned to use the fireworks against Israelis. The sale was reportedly completed through an intermediary, Yediot Ahronot reported, who is also an Arab resident of the capital.
The buyers paid the Israeli dealer $28,400 for 690 packs containing 30 fireworks each.
Authorities say the dealer was aware of the buyer's intentions, and noted that the buyer had been charged for similar purchases in the past from other Israeli Jewish dealers who were also aware of his intentions.
The arrests were the culmination of months of police investigations into the sale.
All three of the suspects have been released to house arrest pending their trial.