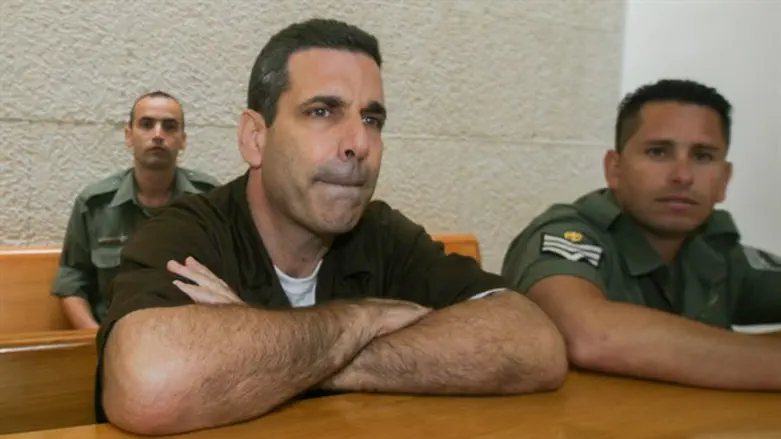 Gonen Segev
Flash 90
Former Minister and MK Gonen Segev was arrested on suspicion of spying for Iran, it was cleared for publication Monday. He served as Energy Minister in the Yiud party from 1995-1996.
Segev was arrested by the Shin Bet and the Israel Police last month on suspicion of committing the offenses of assisting the enemy in a time of war and of spying against the State of Israel.
At the end of the investigation, on June 15, 2018, the Jerusalem District Prosecutor's Office filed an indictment against Segev in the Jerusalem District Court for these offenses, as well as for numerous offenses of giving information to the enemy. The indictment was approved by the Attorney General and the State Attorney.
Segev, who has previously been convicted of drug smuggling, forgery, and electronic commerce fraud, had lived in Nigeria in recent years. He arrived in Equatorial Guinea in May 2018. Segev was transferred to Israel at the request of the Israel Police, after Equatorial Guinea refused to allow him to enter its territory due to his criminal past.
Segev was detained for questioning by the Shin Bet and the police immediately after his arrival in Israel after they had received intelligence indicating that Segev was maintaining contacts with Iranian intelligence and assisting them in their activities against the State of Israel.
An investigation by the Shin Bet and the police found that Segev was recruited and acted as an agent on behalf of Iranian intelligence, and that in 2012 a connection was established between Segev and elements of the Iranian embassy in Nigeria. He later came twice to meetings with his operators in Iran.
The investigation revealed that Segev met with his Iranian operators around the world, in hotels and apartments which are believed to be used for secret Iranian activity. Segev also received a secret communications system to encrypt the messages between him and his operators.
The investigation also revealed that Segev gave his operators information related to the energy market, security sites in Israel, buildings and officials in Israeli political and security bodies, and more.
In order to meet the tasks he received from his Iranian operators, Segev maintained ties with Israeli citizens related to Israel's security and foreign relations. Segev worked to connect some of the Israeli citizens to the Iranian intelligence, while trying to fool them and present the Iranian factors as innocent business agents.
At the request of the General Security Service and the Israel Police, the Court acquiesced and permitted the publication of the aforesaid details, and a gag order was imposed on the other details of the case.