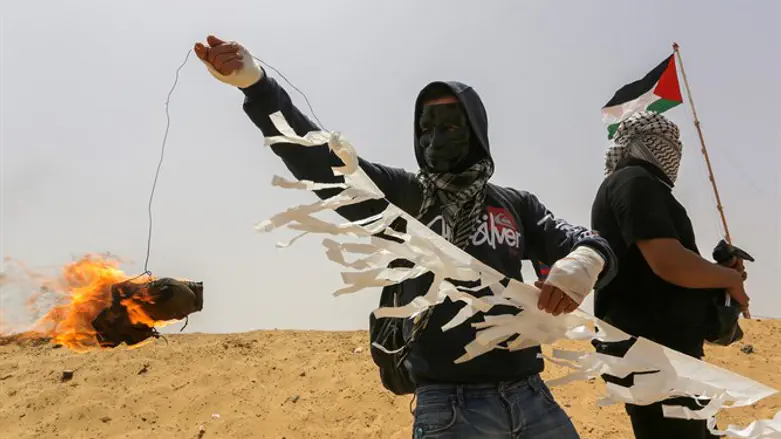 Weaponized kite tail
Flash 90
A group of Gazans that claims to be behind the initiative to send incendiary kites and balloons from Gaza into southern Israel said it would launch 5,000 of the arson tools on Friday.
The group, which calls itself the kite builders unit, also said at a news conference Thursday afternoon in central Gaza that it would extend the range of the kites up to nearly 25 miles from the border.
Friday is Eid al-Fitr, a holiday that comes the day after the month-long fast of Ramadan. Large protests are expected at the Gaza border on Friday.
Also Thursday, the Israel Defense Forces fired a warning shot at a group of terrorists as they prepared to launch a helium balloon carrying flammable material into southern Israel.
A military aircraft fired on the cell Thursday afternoon in the central Gaza Strip, the IDF said. The IDF also said it later carried out an airstrike in the area on what it called infrastructure used to prepare the balloons and kites that have set fire to thousands of acres of agricultural lands and woodlands in southern Israel in recent weeks.
"We view the use of incendiary balloons and kites very seriously and will continue to act to prevent their use," the IDF said in a statement.