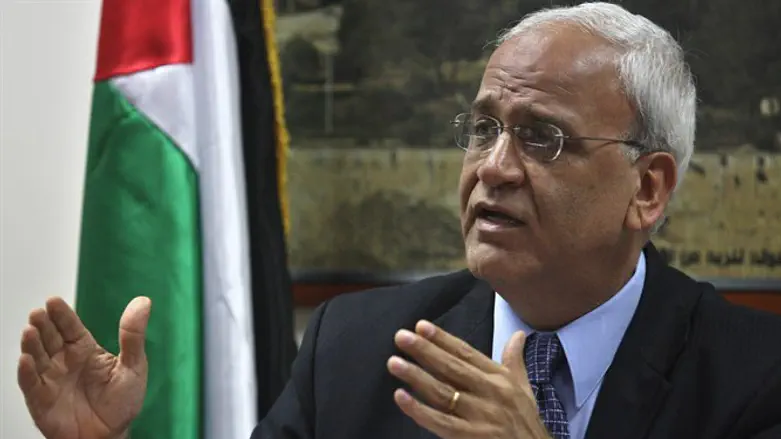 Saeb Erekat
Issam Rimawi/Flash 90
Palestine Liberation Organization (PLO) Secretary General Saeb Erekat and U.S. President Donald Trump's Middle East Envoy Jason Greenblatt on Sunday traded barbs in separate op-eds published in Haaretz.
Greenblatt, in his op-ed, was responding to an earlier piece written by Erekat in which he accused American officials of adopting Israel's position on key issues and serving as a de facto spokesman for the Israeli government.
The U.S. envoy wrote that Erekat's claims "were in many respects simply inaccurate."
Erekat had condemned the U.S. for relocating its embassy to Jerusalem, noting the move occurred amid violence along the Gaza border. On the day of its opening in Jerusalem, an estimated 59 Gazans were killed in violent riots on the border.
Erekat wrote that the contrast between the two events that day "aptly demonstrates the complete U.S. and Israeli denial of the Palestinian history of dispossession."
Greenblatt struck back on Sunday, writing, "For far too long, the United States has turned a deaf ear to such words, but ignoring hateful and false words has not brought peace and it will never bring peace."
"While some protesters were peaceful, many were quite violent. In fact, by Hamas' own admission, more than 80 per cent of those killed were Hamas operatives," noted the American envoy.
He reiterated Trump's declaration that boundaries of Israeli sovereignty are to be determined in peace negotiations, writing, "The notion that Israel is going away — or that Jerusalem is not its capital — is a mirage. The notion that the United States is not the critical interlocutor for the peace process is a mirage."
"Dr. Erekat — we have heard your voice for decades and it has not achieved anything close to Palestinian aspirations or anything close to a comprehensive peace agreement. Other Palestinian perspectives might help us finally achieve a comprehensive peace agreement where Palestinian and Israeli lives can be better," Greenblatt wrote.
"The time for leadership and responsibility is now. The time for meeting after meeting of government officials repeating the same talking points is over. The Palestinian people want real action, and they need honest, realistic and decisive solutions," he added.
The banter did not end there, as Erekat fired back at Greenblatt later on Sunday, with another article in Haaretz in which he accused Greenblatt's discourse of being close to that being used by leaders of the far right in Israel.
"It is not the rhetoric of a U.S. official tasked with supporting the interests of peace in the region," he wrote, adding, "In dozens of meetings we had with Mr. Greenblatt he refused to discuss substance: no borders, no settlements, and no two-state solution. Today, his role is nothing less than peddling Israeli policies to a skeptical international community, and then becomes upset when he's reminded of this."
Greenblatt had previously blasted Erekat's rhetoric, shortly after he published his first op-ed, saying, "But this empty, self-indulgent rhetoric won't stop us from trying. Saeb: It's time to time to roll up your sleeves and get to work. Or, you can continue to run in circles, and get pretty much nowhere!"
The back-and-forth comes as the Trump administration continues to prepare its Israel-Palestinian Authority peace initiative.
Despite the fact that the initiative has yet to be made public, PA officials have repeatedly rejected the proposal, claiming it was coordinated with Israel.