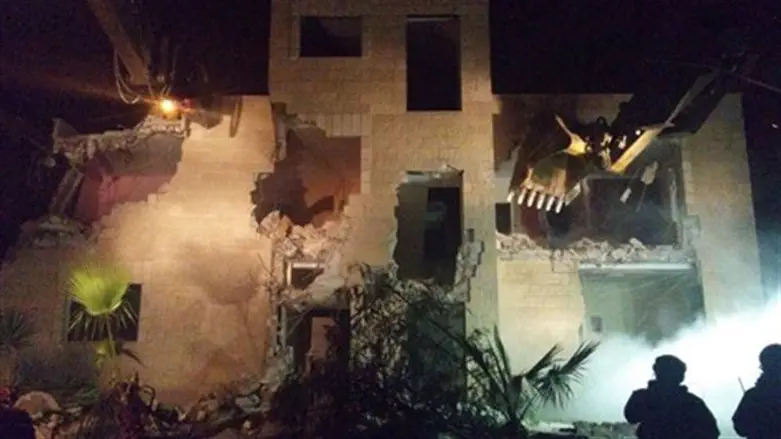 Terrorist home demolition
IDF Spokesman
Supreme Court Justices Noam Solberg, Dafna Barak Erez, and David Mintz today rejected the petition by the family of Alaa Kabha who murdered IDF soldiers Ziv Daus and Netanel Kahalani hy"d against the demolition order issued for the house where the Kabha lived.
The attack occurred in March this year. Kabha careened toward a guard post located near the town of Mevo Dotan and ran over a number of soldiers standing next to it.

Two of the soldiers, Captain Ziv Daus and Sergeant Netanel Kahalani, were killed as a result of the fatal attack, and two of their comrades sustained serious injuries.
At the beginning of May, a demolition order was issued for the apartment where Kabha lived with his wife, daughter, and brother, on the third floor of a five-story building.
The two petitioners, both from the terrorist's family, demanded the apartment not be demolished. They argued that demolition was contrary to international law. In addition, they claimed the suspicions against Kabha were not proven because his trial had not yet been completed, and that because the terrorist did not live in the entire apartment but only in part of it, it should not be demolished.
The judges rejected the petition and ruled that according to case law permitting destruction of terrorist murderer's homes, there is no basis for accepting the arguments appearing in the petition.
"In the present case a number of pieces of evidence were presented to the military commander, including the confession to the police as well as a reenactment he staged in which he repeatedly admitted that he committed the crime in order to murder soldiers, plus additional evidence attesting to the state of the vehicle used by Kabha and findings on the ground. In this sense, we cannot say this is a 'borderline' case of administrative evidence," noted Justice Barak Erez.
The Court ruled it will be possible to demolish the house in seven days.