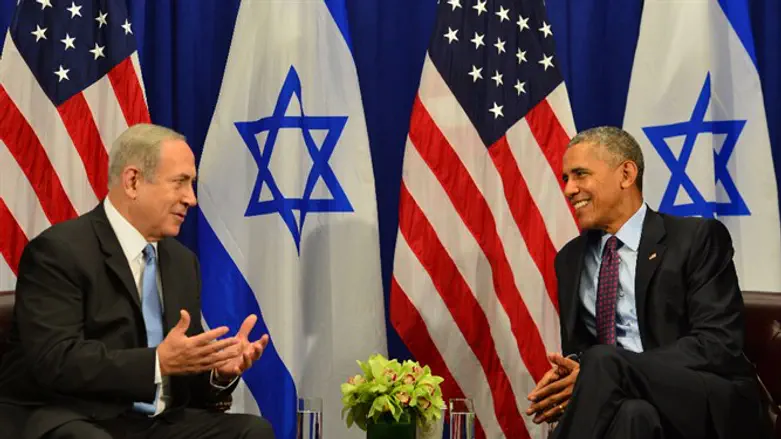 Netanyahu and Obama
Kobi Gideon/GPO
Prime Minister Binyamin Netanyahu supported then-U.S. President Barack Obama in his decision to wait for congressional backing for an attack on Syria, following its use of sarin gas in an attack in 2013, former Obama aide Ben Rhodes claims in his new book, according to a report in i24news on Monday.
"Your decision was right, and history will be kinder than public opinion," Netanyahu told Obama, says Rhodes in the book, titled "The World As It Is: Inside the Obama White House."
Obama has come under fire for failing to act on his statement in 2012 that Syrian use of chemical weapons would be a "red line" for the U.S.
When such weapons were indeed subsequently used by the Assad regime, Obama opted to back a diplomatic deal brokered by Russia that saw the Assad regime hand over its declared chemical weapons stockpiles.
Obama consulted with Netanyahu at the time, torn about whether to act on his public statement, according to Rhodes' book.
Rhodes' account details the conflicted weeks prior to seeking congressional authorization, as Obama discussed the issue with various leaders amid growing resistance from Republicans as well as European allies in taking military action in Syria.
Though AIPAC and Saudi Arabia lobbied hard for Congress to give Obama the green light, Netanyahu gave Obama reassurance in his reticence, a surprising revelation given Israel's position on Syria as well as the leaders' notoriously rocky relationship.
In the end, Obama walked back from his original threat, giving up on seeking congressional authorization, instead opting to pursue diplomatic means.
"I realized then that he was comfortable with either outcome. If we won authorization, he'd be in a strong position to act in Syria. If we didn't, then we would potentially end the cycle of American wars of regime change in the Middle East," Rhodes explains coming to terms with his decision.
In 2016, several months before leaving office, Obama said he does not regret stepping back from his "red line" on Syria's use of chemical weapons and, in fact, maintained he was "proud" of the decision.
Former Defense Secretary Chuck Hagel criticized Obama over his failure to act in Syria after the warning to Assad, saying he believed Obama dealt a severe blow to the credibility of both Obama and the United States by not taking action after Assad used chemical weapons against Syrian civilians.
Similar comments were made by Leon Panetta, who preceded Hagel as Defense Secretary.
"By failing to respond, it sent the wrong message to the world," Panetta said in a book released in 2014, adding, "President Obama vacillated, first indicating that he was prepared to order some strikes, then retreating and agreeing to submit the matter to Congress."