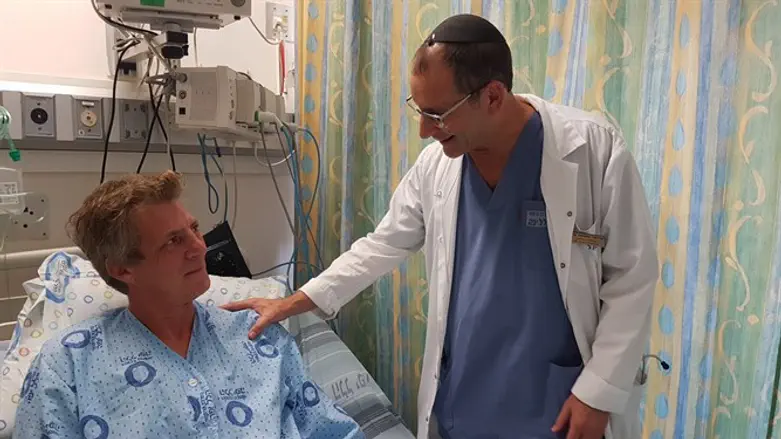 Dan Bolzoni with Professor Meisel
Hillel Yaffe Medical Center spokesperson
Dan Bolzoni, 47, was miraculously saved on Friday morning after he went into cardiac arrest on a beach in northern Israel.
Bolzoni, a resident of Pardes Hanna-Karkur and the married father of one (and one on the way), was surfing at the Sdot Yam beach on Friday morning when he collapsed.
Local sports instructor named Shachaf Shir, called to the scene by a young woman who witnessed Bolzoni's collapse, immediately began performing CPR, and an ambulance was called to the scene.
Bolzoni was transferred to Hadera's Hillel Yaffe Medical Center, unconscious and breathing with assistance.
"Dan arrived and we immediately realized that one of his heart muscles was blocked, and we needed to insert a catheter immediately," Profesor Simcha Meisel, who heads the hospital's ICCU. "He was rushed to the catheterization room, and while we were inserting the catheter, we saw that the main artery to the heart was blocked. We treated it quickly and appropriately."
"This was one of the worst cases of myocardial infarction that I have seen, especially considering the patient is a healthy young man, who exercises," Prof. Meisel said.
He emphasized that the main lesson is the importance of CPR by a "passing pedestrian" who did a course in basic CPR.
"The young man who performed initial CPR undoubtedly made the difference," he said. "Dan is recovering now, but he hardly suffered any damage, due to the treatment he received at the scene and the fact that he was quickly brought for catheterization."
Bolzoni remained unconscious after the procedure was completed, but began to regain consciousness the next day. He is currently walking around the department, and other than what he was told by others, he remembers nothing of the original incident.
His brother, Ron, described Bolzoni's recovery as "a series of miracles." Meanwhile, Dan Bolzoni himself expressed gratitude to Shachaf, the medical staff at Hillel Yaffe, as well as Magen David Adom.
"My family has already spoken to him, and he even sent me an emotional message via WhatsApp, saying he's happy I'm doing okay," Bolzoni said.