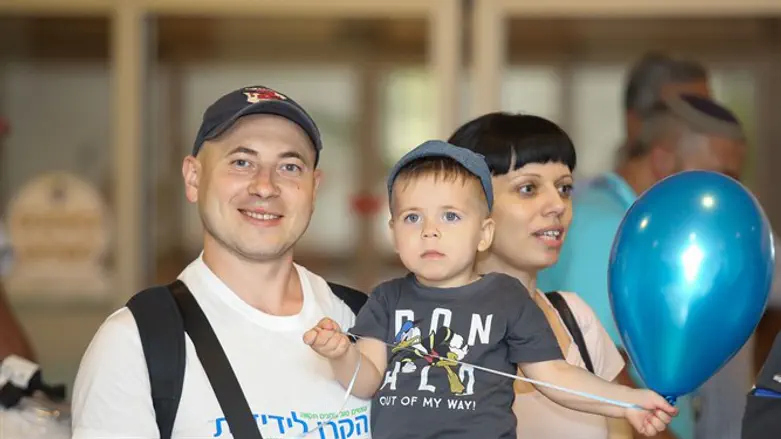 Some of the new immigrants
Noam Moskowitz
Even as tensions
escalated
in Israel's south, more than 200 olim (immigrants to Israel) from Argentina, Brazil and Ukraine arrived in Israel
Monday
and
Tuesday.
The olim, 206 in all, arrived on flights organized by the International Fellowship of Christians and Jews ("IFCJ").
Of the latest new olim, 175 came from Ukraine, including 41 children. The new arrivals will settle in cities and towns across Israel, from Karmiel in the north to Eilat in the south. Most will settle in Netanya and Haifa, with 16 new olim each, and 14 will settle in Ashdod.
Israel's Minister of Aliyah Sofa Landver (Yisrael Beytenu) met with some of the olim in Kiev, Ukraine, as part of the three-day introductory seminar "Preparing for Israel," which IFCJ provides to all olim it brings to Israel.
"I am always excited to meet new olim moments before they transform into full-fledged citizens of Israel," Landver said then. "Immigration from Ukraine continues constantly, and (Monday) another 175 olim are expected to land in Israel via IFCJ. This means 175 new olim who will build their homes in cities and towns around the country and contribute greatly to all professional, social, and economic realms in Israel. I wish them all a speedy, smooth adjustment, and I thank IFCJ for their Zionist endeavors."
Once the olim arrive in Israel, IFCJ also provides financial assistance and other support to help them resettle.
IFCJ's Founder and President, Rabbi Yechiel Eckstein, also welcomed the second group of olim on Monday and thanked Landver.
"Every flight of olim that lands in Israel is the fulfillment of the Zionist vision and contributes positively to the strength of Israeli society. Both on Monday's and Tuesday's flights, we have teachers, architects, doctors, nurses, and dozens of children who will integrate quickly and enrich our society," he said.
"I am proud to stand at the forefront of an organization that helps thousands of olim come to Israel every year, and I call upon the Israeli public to accept the new arrivals with open arms. I also wish to thank Minister Landver of the Immigration and Absorption Ministry and her devoted staff members for the joint effort to ensure the successful absorption of the new olim in Israel."
The new arrivals are among the 1,580 olim IFCJ has brought to Israel so far this year. Since 2014, IFCJ has independently brought more than 13,000 olim from 26 countries where Jews face rising anti-Semitism, terrorism, and economic challenges, with more than 5,400 arriving in 2017 alone. Over the past 20 years, IFCJ has helped bring more than 150,000 new olim to Israel, initially working with the Jewish Agency and then Nefesh B'Nefesh.
Among the latest new arrivals are three generations of the Chiala-Roznov family from Ukraine. All six members of the extended family are hearing-impaired. They will be taken to Tiberias, where IFCJ has arranged employment for the adults in hotels, and the children will be enrolled in local schools.
"We are looking forward to a better future here for our children. We are used to working hard, and we're not afraid of the challenges of absorption. We are confident that we will have a good, happy life here in Israel, and that we will contribute our utmost to Israeli society," one family member told Landver.