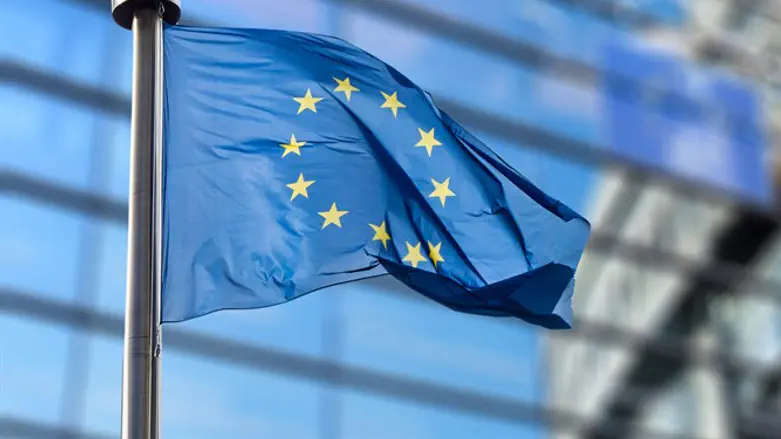 European Union flag
iStock
The European Union on Tuesday night condemned the continuing rocket and mortar fire from Gaza toward southern Israel, after a barrage of more than 80 rockets and mortars hit Israel.
"The rocket and mortar fire by Palestinian militants from Gaza towards Israel must stop immediately. Indiscriminate attacks against civilians are completely unacceptable under any circumstances," said an EU statement.
"A de-escalation of this dangerous situation is urgently needed to ensure that civilians' lives are protected. Israelis and Palestinians both have the right to live in peace, security and dignity: the cycle of violence and despair has to be broken with a genuine political process," the statement continued.
Tuesday's barrages began with the launching of 28 mortar shells at Israel communities near Gaza early in the morning. One mortar struck near a kindergarten shortly before the children were to arrive for class.
One rocket damaged a facility which provides electricity to Gaza, cutting power to the Hamas-run enclave.
The Hamas and Islamic Jihad terror groups claimed responsibility for the rocket and mortar barrages.
The IDF responded to the continuing rocket attacks with a series of airstrikes against terrorist targets in Gaza.
Earlier on Tuesday evening, the United States called for an emergency meeting of the UN Security Council to discuss the latest attacks on Israel out of Gaza.
"The recent attacks out of Gaza are the largest we have seen since 2014. Mortars fired by Palestinian militants hit civilian infrastructure, including a kindergarten. The Security Council should be outraged and respond to this latest bout of violence directed at innocent Israeli civilians, and the Palestinian leadership needs to be held accountable for what they're allowing to happen in Gaza," said the U.S. Ambassador to the UN Nikki Haley.