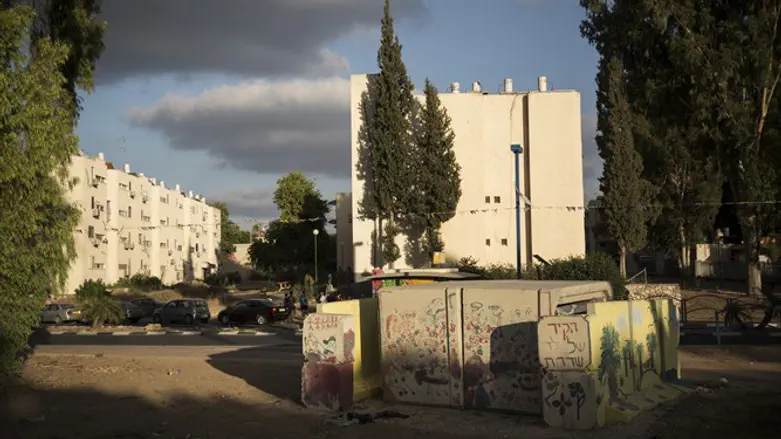 A neighborhood in Sderot (archive)
Hadas Parush/Flash 90
Local council heads in the Gaza Belt on Monday night demanded that the government take action, after several buildings and vehicles in the city of Sderot were hit by bullets fired by terrorists from Gaza.
Sderot Mayor Alon Davidi said, "We are already familiar with the threat of machine-gun fire from Gaza. Hamas is trying to disrupt our routine and disturb our peace, but we will not give it the satisfaction and will continue the preparations for our summer events. The municipality is prepared, and the welfare and resilience centers will provide immediate assistance or treatment in the event they are required."
"I am convinced that the defense minister and the chief of staff will not remain silent over this grave incident and will respond strongly in Gaza. A bullet should be treated like a rocket, " added the mayor.
The head of the Sdot Negev Regional Council, Tamir Idan, also responded to the incident.
"The shooting tonight toward Sderot is a very serious incident," he said, according to Hadashot TV. "We ask the army to view it as it does the firing of a missile, no less, and to respond accordingly. We are very pleased with the way the army is acting, backed by the Israeli government, in responding harshly to any act of terror against the civilian population."
Monday's incident marks the second time this month Sderot has been struck by machine gun fire from Gaza. On May 16, six houses in Sderot were damaged when terrorists opened fire at an Israel aircraft.