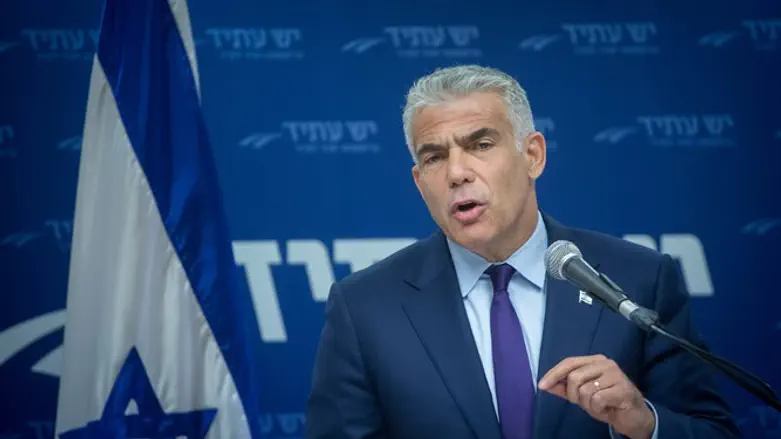 Lapid
Flash 90
Yesh Atid Chairman MK Yair Lapid today slammed coalition members for advance legislative initiatives and said they were damaging the rule of law.
"MK Mickey Zohar of the Likud proposes this week to forbid publishing investigations of politicians. MK Smotrich called the police yesterday 'nothings'. The entire police. Nothings. Including all those who are currently defending our lives against terror attacks. Coalition Chairman David Amsalem is promoting a law to ban secret recordings of politicians, because in his opinion politicians deserve special protection," Lapid said at a Yesh Atid faction meeting.
Lapid continued enumerating coalition MK initiatives, which he says are aimed at weakening enforcement and judicial authorities before an indictment is filed against the Prime Minister: "The Knesset Interior Committee Chairman Yoav Kish demanded yesterday not to extend the Police Commissioner's tenure. This is part of an entire campaign aimed at ousting the Commissioner. Don't be confused. To not extend him a fourth year because of the Prime Minister's investigations is tantamount to an ouster.
"Is there one person in the country who thinks this is accidental? That the timing is coincidental? The attack on the police, the attack on the court, the attack on the media? If all these laws are so good and important why didn't they pass them three years ago, five years ago, nine years ago? Netanyahu's in power since 2009; why did they remember now?" Lapid wondered.
"The answer is that there is a deliberate, orchestrated attempt to undermine the rule of law in Israel because the Prime Minister's investigations draw close to an indictment," he said, adding: "This is an attempt to undermine public trust in all the institutions that hold this State together. And the one who's leading the attack is the one who was supposed to protect it. There's a Prime Minister here who constantly whines about the use of fake news and at the same time doesn't stop disseminating fake news himself, against the Police Commissioner, against the police, against the court, against Yesh Atid and against me."
After the attack on coalition members, Lapid went on to attack the Prime Minister, "It won't help them; their assumption is that the Israeli public isn't intelligent. The Israeli public is intelligent; they understand exactly what's happening to them. They know something happened to the Prime Minister. Something happened to Netanyahu. There are two Netanyahu's today: Netanyahu the Statesman who brought the embassy to Jerusalem, and Netanyahu the Haunted, who sits at night and writes articles against Amnon Abramovich and sends MKs to propose bills that will harm the police and the rule of law.
"The State of Israel was here before Binyamin Netanyahu, it'll be here after Binyamin Netanyahu, and we deserve, and will yet have, a clean and decent government that doesn't think only of itself," Lapid concluded.
לפיד: יש פה נסיון לערער את שלטון החוק