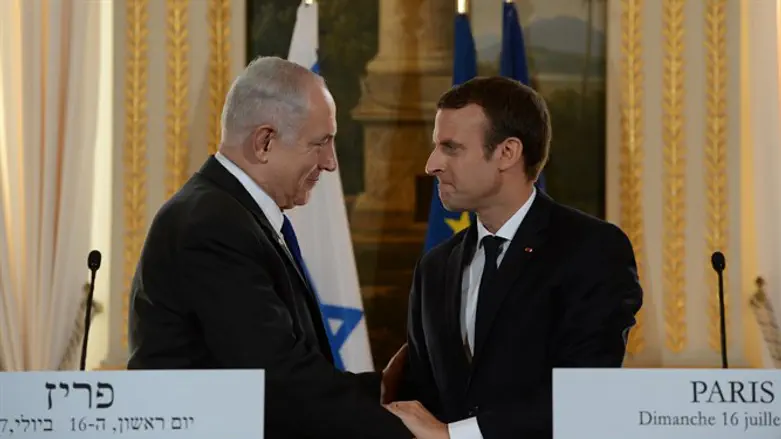 Netanyahu meets with Macron
Haim Zach GPO
Prime Minister Binyamin Netanyahu will make state visits to Germany and France, where he will meet with German Chancellor Angela Merkel and French President Emmanuel Macron.
According to the statement rebased by the Prime Minister's Office, Netanyahu will begin his tour of Europe in Berlin, where he will meet with Chancellor Merkel on Monday, June 4.
Later that day, Netanyahu will continue to France, where he will meet with French President Macron and other senior French government officials. Netanyahu will return to Israel on Wednesday.
Netanyahu's agenda will mainly focus on the nuclear issues with Iran. Germany and France opposed US President Donald Trump's decision to withdraw from the nuclear deal, and Netanyahu will attempt to convince Merkel and Macron that Iran has not kept keep their part the agreement.
Chancellor Merkel recently issued a statement urging Israel and Iran to "maintain restraint" and to refrain from further escalation in Syria after the recent attacks on Syrian military bases that the foreign media has attributed to Israel, and an attempt to fire rockets from Syria into the northern Golan Heights, attributed to Iran.
Germany and France also expressed opposition to US President Donald Trump's announcement to move the American Embassy to Jerusalem, and they announced in return that they would not transfer their own embassies to the capital of Israel.
Netanyahu last met with Merkel and Macron in January at the Economic Committee in Davos, Switzerland.