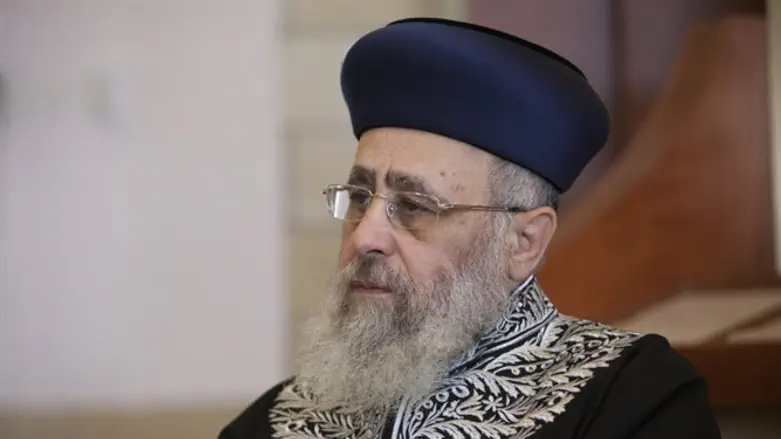 Rabbi Yitzhak Yosef
Flash 90
A segment run by Israel's public broadcaster Kan sparked outrage after it compared Israel's Chief Sephardic Rabbi, Rabbi Yitzhak Yosef, to Iranian President Hassan Rouhani.
During last Sunday's episode of a weekly humorous segment on Kan, children were asked a number of questions about Iran. At one point during the segment, the children were shown two pictures, and were asked to identify whether the person in the picture was "Iranian or not Iranian?"
The first picture showed Rouhani. Immediately thereafter, a picture of Rabbi Yitzhak Yosef was shown.
The segment sparked outrage on the web after Channel 20 reporter Amir Ivgi shared it Saturday night on his Twitter account.
"Amusing on public TV. They show children pictures of Rouhani and of the Chief Rabbi of Israel and they need to say 'Iranian or not Iranian.' Wait, is this the same place which was shocked at the harm to the souls of Israeli children when they hear 'Shema Yisrael/ Love your neighbor as yourself?'" Ivgi asked, referring to a piece run by Kan earlier this month which characterized Chabad-run Lag Ba'omer children's parades as "religionization."
MK Michael Malchieli (Shas) blasted Kan for the segment. "The very comparison between a giant of Israel, Chief Rabbi Yitzhak Yosef, and an enemy of Israel is quite outrageous. I would expect more from the Public Broadcasting Corporation," he said, according to Kikar Hashabbat.