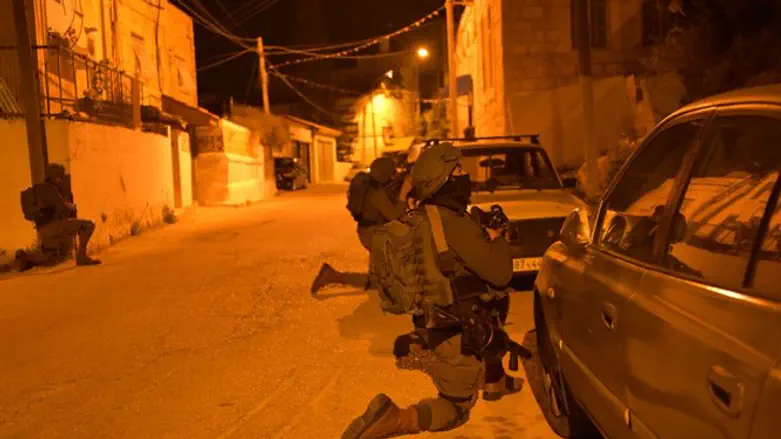 IDF soldiers (archive)
IDF Spokesperson's Unit
The arrest operation Thursday morning in Al Amari in Ramallah, during which an IDF soldier from the Duvdevan unit was critically injured, was directed at a terrorist squad involved in recent shooting attacks in the region, it was cleared for publication on Thursday evening.
One suspect was arrested in the framework of Thursday morning's operation, and two additional members of the cell suspected of involvement in shooting attacks were arrested on Thursday evening. They were transferred for questioning by the Israel Security Agency (Shin Bet).
The Duvdevan soldier was critically injured when a block was dropped from a roof, hitting him in the head as he secured the street for other soldiers carrying out an arrest nearby.
Defense Minister Avigdor Liberman vowed on Thursday afternoon that Israeli security forces would bring to justice the terrorist who dropped the marble block on the soldier.
"Our hearts go out to the soldier from Duvdevan and to his family in this difficult hour," said Liberman. "The entire Jewish people is praying for his recovery."
"We take this incident extremely seriously. This disgusting terrorist who harmed [the soldier] won't see day or night. It won't be long before we get him – dead or alive," he added.