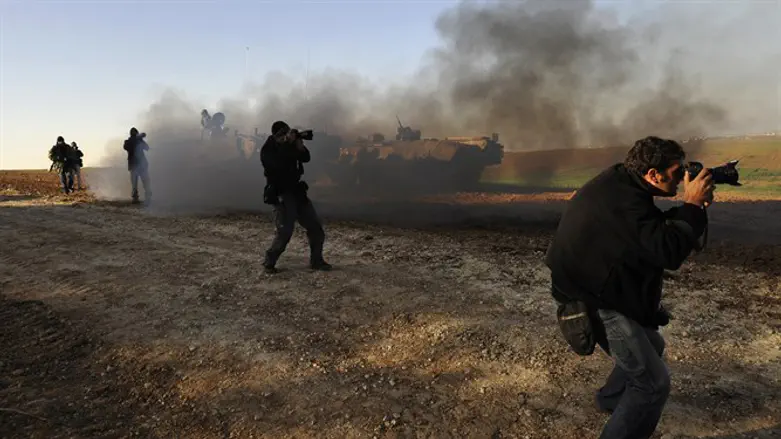 Foreign photographers take pictures of Israeli troops outside northern Gaza
Reuters
The Knesset Ministerial Committee on Legislation today will discuss a law to prohibit photographing or documenting IDF soldiers on duty.
The bill's initiator, MK and Yisrael Beiteinu Chairman Robert Ilatov, is presenting the proposal with support of Defense Minister Avigdor Liberman, the Israel Hayom newspaper reported.
The bill, entitled the Prohibition against Photocopying and Documenting IDF Soldiers, sets severe penalties for those breaking the law. "Anyone who filmed, photographed, and/or recorded soldiers in the course of their duties, with the intention of undermining the spirit of IDF soldiers and residents of Israel, shall be liable to five years imprisonment. Anyone intending to harm state security will be sentenced to ten years' imprisonment," the bill states.
In addition to prohibiting documentation, the proposal prohibits distributing photographic or recording content on social networks or in the established media.
MK Ilatov says the bill came as a response to harassment by left-wing operatives of IDF soldiers while dispersing violent demonstrations by Hamas on the Gaza border. Operatives were seen interfering with soldiers who blocked border crossings, accusing the soldiers of war crimes and calling them "terrorists".
The bill's explanatory notes state "For many years the State of Israel has witnessed a worrying phenomenon of documentation of IDF soldiers. This is done through video, stills, and audio recordings by anti-Israel and pro-Palestinian organizations such as B'Tselem, MachsomWatch Women, Breaking the Silence, and various BDS organizations. In many cases the organizations spend entire days near IDF soldiers waiting impatiently for activities that can be presented in biased and tendentious form - and to disgrace the soldiers thereby.
"Documentation is usually done while interfering with IDF soldier's ongoing operational activities, sometimes even shouting accusations and insults against them. Most of these organizations are supported by associations and governments with a clear anti-Israeli agenda, which use these tendencies to harm the State of Israel and its security.
"It's time to put an end to this absurdity, and it's inconceivable that every leftist operative or organization supported by foreign entities will have free access to document IDF soldiers unhindered while carrying out their duties. We have a responsibility to provide IDF soldiers with optimal conditions for carrying out their duties, without having to worry about a leftist or organization who might publish their picture to shame and disgrace them," said MK Ilatov.