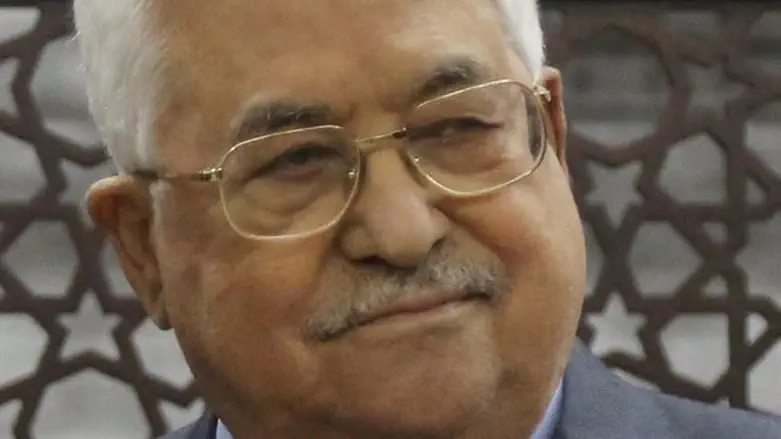 Abbas
Flash 90
Palestinian Authority President Mahmoud Abbas was photographed in hospital in Ramallah to demonstrate his recovery. He was pictured reading al-Hayat al-Jadida, the official paper of the Palestinian Authority, the newspaper he controls. Visible on the back page is an anti-Semitic caricature by Muhammed Sabaaneh.
Layla Ghandour is the title of the caricature which an Israeli soldier replaces a baby's milk with poison. The baby, Ghandour, 8 months old, was brought on May 14 to the violence of the "Great March of Return" and died. As usual in Gaza and throughout the region, the baby became the face of Monday's struggle in which about 60 demonstrators died, 50 of them Hamas members.
The initial Palestinian claim was that the baby died of tear gas inhalation and her funeral had been broadcast on world television news and in the print media.
"There is fundamental doubt regarding the credibility of the Hamas Health Ministry's announcement about the death of the baby in the Gaza Strip from the inhalation of tear gas," tweeted Major Avichay Adraee, head of the Arab media division of the IDF Spokesperson's Office.
Later in the week a Gazan statement cast doubt on Ghandour's death from tear gas inhalation, now claiming the cause to have been a heart attack.
Abbas, who recently celebrated his 83rd birthday, is hospitalized in Ramallah purportedly suffering from pneumonia. His discharge from hospital in the coming days has been announced.
MK Ahmed Tibi (Joint List), a doctor by training and a personal adviser to the late PLO terrorist and PA leader Yasser Arafat, tweeted in his Twitter account that Abbas is being treated with antibiotics and that his condition is improving.