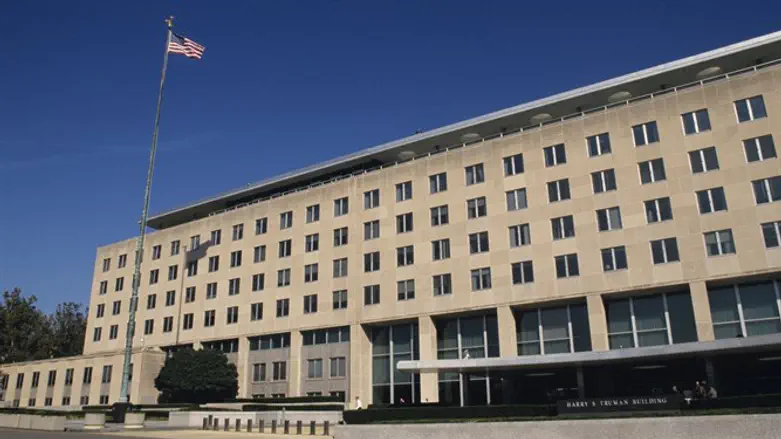 State Department building
Thinkstock
Hamas is using the unveiling of the American embassy in Jerusalem as an "excuse" to encourage violence, the State Department said on Tuesday, as violent riots continued along the Israel-Gaza border, resulting in the deaths of 60 Gazans.
When pressed by journalists in Washington, State Department spokeswoman Heather Nauert refused to follow other Western countries in calling for restraint from Israel, or even all parties.
"This is a complex region," Nauert said, according to AFP.
She added that "we regret the loss of life; we regret the loss of all life," but also reiterated the White House position: "Israel has a right to defend itself."
Nauert declined to link the violence with the new American embassy, noting, "We have watched the demonstrations over the past six weeks. These demonstrations are nothing new."
"If Hamas wants to use that as an excuse to rile people up and to encourage violence, that is their choice. It's an irresponsible choice," she added.
The violent riots, which have been going on since March 30, continued on Tuesday as Arabs on marked Nakba Day, meaning what they view as the "catastrophe" of the establishment of the State of Israel in 1948.
Protests and sporadic incidents flared again Tuesday on the Gaza border, though they were far fewer in number than the previous day, Gaza's health ministry said, according to AFP.
While several world countries have pointed an accusing finger at Israel over the violent clashes, that has not been the case with the United States.
On Monday, the White House said that Hamas was to blame for the deaths of Gazans killed during the protests, noting that the group "is intentionally and cynically provoking this response."
Later in the day, the U.S. blocked the adoption of a UN Security Council statement that would have called for an independent probe of deadly violence on the Israel-Gaza border.
On Tuesday, the U.S. Ambassador to the UN Nikki Haley said that the IDF acted with "restraint" in dealing with violent riots along the Gaza border.
"In recent days, Hamas terrorists, backed by Iran, have incited attacks against Israeli security forces and infrastructure. That is violence that should occupy our attention too," Haley said during an emergency meeting of the UN Security Council.
"No country in this chamber would act with more restraint than Israel has," she added. "In fact the records of several countries here today suggest they would be much less restrained."