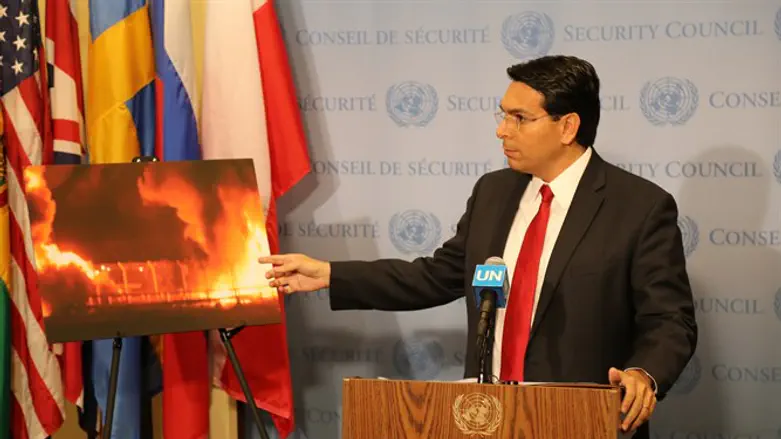 Ambassador Danon and a photograph of the Kerem Shalom crossing
צילום: Israeli Mission to the UN
Israel's Ambassador to the United Nations Danny Danon addressed reporters ahead of an emergency session of the Security Council on the situation in Gaza.
"Over the past month, Israel had to defend itself from the violent rioters along the security fence with Gaza. The rioters have thrown firebombs, planted explosive devices, and rolled burning tires. They've sent flaming materials over the fence and into Israel, spreading deadly fires across our fields. And they've tried on multiple occasions to break down the fence and infiltrate Israeli territory," Ambassador Danon said.
Presenting a photograph of the Kerem Shalom crossing, usually used for humanitarian aid and recently torched by rioters, Ambassador Danon said, "Had the rioters broken down the fence and infiltrated Israel, there can be no doubt the damage to Israeli towns and villages would have looked like this.
"Hamas has committed war crimes not only against Israeli civilians but also against its own people – turning them into human shields for their own cynical gain. Every casualty that's resulted from the recent violence is a victim of Hamas war crimes," Ambassador Danon continued.
Regarding the opening of the US embassy in Jerusalem, Ambassador Danon noted that "everyone who claims the US embassy move is to blame for Palestinian violence needs to look at the facts. The embassy is just the latest in the series of Palestinian excuses for violence against Israel."