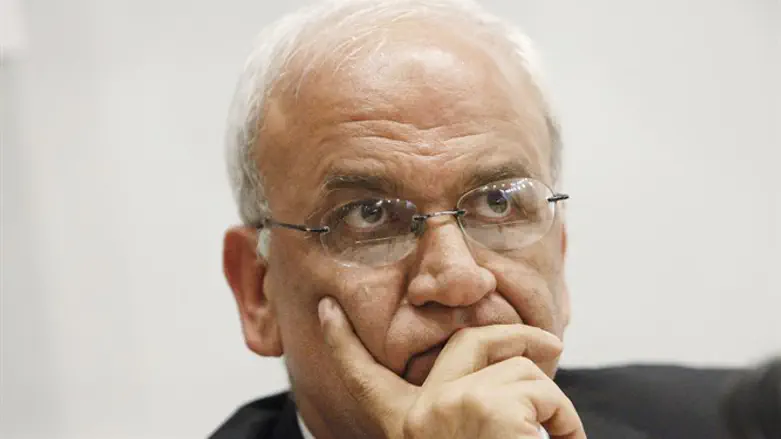 Saeb Erekat
Miriam Alster/Flash 90
Senior Palestine Liberation Organization (PLO) official Saeb Erekat said on Monday that the Palestinian Authority (PA) leadership has decided to file a war crimes complaint against Israel with the International Criminal Court over its "settlement construction on occupied lands", The Associated Press reported.
Erekat said the decision was made late Monday in a meeting between PA chairman Mahmoud Abbas and senior PLO officials. It came after the U.S. moved its embassy in Israel to Jerusalem and after 58 people were killed in violent protests along the Gaza border.
The IDF Spokesperson's Office released two video clips from the demonstrations showing terrorists attempting to damage the fence and to infiltrate Israel's pre-1967 borders.
Erekat said a decision was made to sign the ICC referral "immediately", according to AP.
Earlier on Monday, Abbas condemned the opening of the American embassy in Jerusalem as a "settlement."
Speaking at the start of a meeting of PA leadership in Ramallah, Abbas called the embassy "a new American settlement outpost in Jerusalem."
He stated that the U.S. recognition of Israel's capital means that "the United States is no longer a mediator in the peace process - the removal of Jerusalem and the refugees means an American slap [in our faces]."
The PA has filed complaints against Israel with the ICC in the past. The PA officially joined the ICCon April 1, 2015, and immediately filed a series of legal complaints with the court. In addition to claiming that Israel committed war crimes during the 2014 Gaza war, it also claimed that Israeli "settlements" are "an ongoing war crime".
The PA has had standing at the court since the UN General Assembly recognized the "state of Palestine" as a non-member observer in 2012.
According to the AP report, Erekat said on Monday that in that capacity, "Palestine" will also join several international organizations.