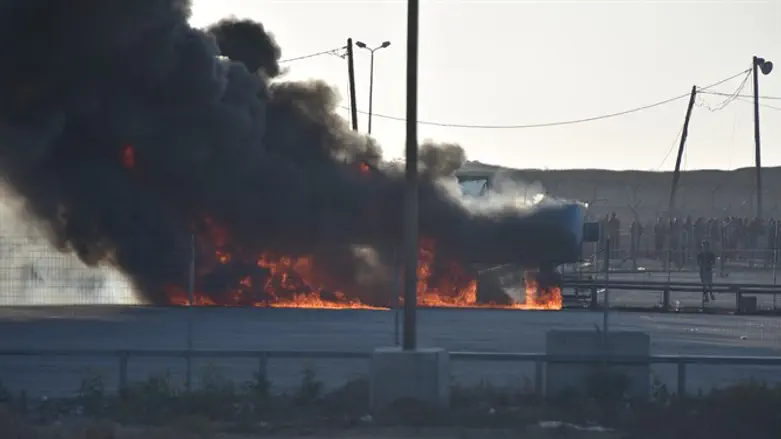 torching of Kerem Shalom Crossing
IDF spokesperson
Prime Minister Binyamin Netanyahu will attend security conference by telephone Monday in response to the violent riots in the Gaza Strip.
The meeting will be attended by Defense Minister Avigdor Liberman, ISA Director Nadav Argaman and IDF Chief of Staff Gadi Eizenkot.
The prime minister defended the IDF's response to the riots, which resulted in the deaths of over 50 people.
"Every country has the obligation to defend its borders," Netanyahu wrote on his Twitter account Monday evening.
"The Hamas terror organisation declares its intention to destroy Israel and send thousands to break through the border fence in order to achieve this aim. We will continue to act firmly in order to defend our sovereignty and our citizens."
תיעוד: הצתת מעבר כרם שלום ותקיפה אווירית על יעדי חמאס
דובר צה"ל
Earlier, the IDF attacked targets belonging the Hamas terrorist organization in the Gaza Strip. The strikes followed another attack on the Kerem Shalom Crossing by activists affiliated with Hamas Monday.
The Kerem Shalom Crossing is the primary conduit by which humanitarian aid is provided to the Gaza Strip.
Israel announced the closure of the crossing following the damage done to the gas lines which provide fuel to Gaza in riots on Friday and Sunday.
The IDF Spokesperson's Office released two video clips from the violent confrontations on the Gaza border Monday.
One of the clips shows members of an armed squad attempting to break through the perimeter fence. An IDF vehicle arrives at the scene and fires at the terrorists, some of whom escape.
In another video, demonstrators can be seen attempting to damage the fence by pulling parts of the fence down and by burning tires.
At the same time, the army published pictures of terrorists placing an improvised explosive device (IED) near the fence, as well as demonstrators burning tires and a kite with a firebomb that was sent from one of the demonstrations.
Another video documented the attack on Hamas' position by the Israeli Air Force. The IDF Spokesperson's Office said that a fighter plane attacked five terrorist targets in a Hamas training camp in the northern Gaza Strip, in response to the terrorist activity carried out by the Hamas terrorist organization in the past few hours along the border fence.
An IDF soldier was lightly injured by a stone thrower and was evacuated to the Barzilai Hospital in Ashkelon