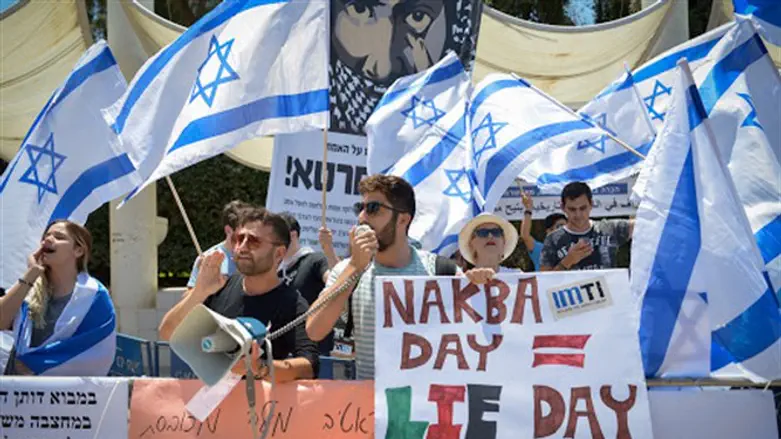 Im Tirtzu demonstrates against Nakba operatives
Flash 90
On the occasion of the US Embassy in Jerusalem's move and its diplomatic implications in the tense region, I24News International News Channel published an extensive survey including an examination of Jewish and Arab attitudes regarding the American move. The survey was conducted among Israeli Jews as well as among Israeli Arabs through Geocartography Knowledge Group.
Regarding whether the American embassy transfer to Jerusalem is a positive or dangerous move, 56.2% of the public believes it to be a positive move, while 23.9% believe it is dangerous.
Is moving US embassy positive or risky?
i24News
However, an examination of the identity of the respondents found among Jews a broad consensus of 66.3% viewing the move as positive, while only 6% of the Arab citizens agree with this view - against 48% of Arab respondents considering this is a dangerous move, compared to 19.1% of Jews agreeing with this position.
Examining the question of which city the public believes should be the capital of a Palestinian state if and when such a state is established, 24.6% of the public believes this capital should be established in Ramallah, the highest figure among the general public. Here, too, one can find a clear division between Jews and Arabs, with 27.1% of the Jews choosing this city, and only 12% of the Arabs.
Among additional options it was possible to find Gaza, East Jerusalem, and Abu Dis, as well as the option to respond there would be no Palestinian state.
Surprisingly, only 57% of the Arabs chose the East Jerusalem option, showing that despite maintaining a majority, there is no longer Arab consensus on the location of the capital of a future Palestinian state, while 19% prefer not to express any opinion on the issue and 5% do not want to see a Palestinian state at all.
Where should the capital of 'Palestine' be?
i24NEWS