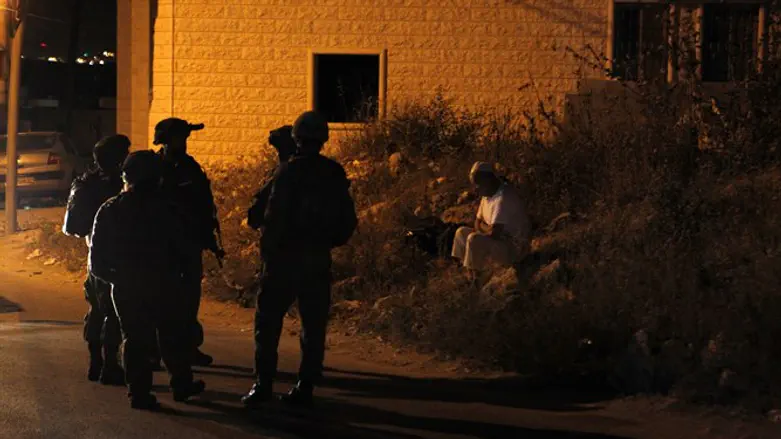 IDF forces arrest terrorist (illustrative)
Isaam Haashlamon, Flash 90
IDF, Shabak (Israel Security Agency), Border Police, and Israel Police on Sunday night arrested nine wanted suspects for involvement in terror activities, "lone wolf" terror attacks, and violent disruptions of order aimed at civilians and security personnel.
All of the suspects have been taken for interrogation.
In addition, during a routine operation to confiscate terror funds, the IDF's Etzion Brigade found in Kafr Ibadiya a vehicle worth tens of thousands of shekels set to be transferred to support terror.
On Monday morning, IDF planes distributed notifications warning Gazans not to near the Gaza-Israel border, attempt to harm it, or attempt to carry out terror attacks.
"The IDF reiterates its warning to Gaza residents not to near the border fence and allow themselves to be used by Hamas," an IDF spokesman said. "The IDF is ready for many scenarios and we are determined to protect Israel's citizens and its sovereignty. The IDF will not allow harm to its security infrastructure or to the fence which protects Israeli citizens, and will act against anyone who tries to harm Israel's security."