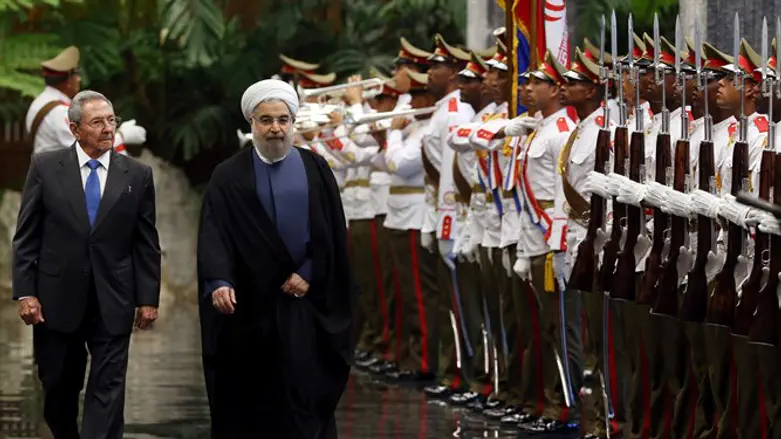 Iran Pres Rouhani and Cuba President Castro review honor guard, Havana, Cuba
Reuters
Gatestone Institute's Judith Bergman reports that Iran and Hezbollah have been operating in Latin America since the 1980s effectively undisturbed. During this time, Iran and its proxy, the terrorist organization Hezbollah, have been Islamizing Latin America, apparently to create a forward base of operations for the Islamic Republic in the United States' backyard.
Bergman reports that no Latin American country has designated Hezbollah a terrorist organization, allowing Hezbollah to operate there with relative impunity.
In 2012, Gatestone reports, there were 32 Iranian cultural centers across Latin America to facilitate the spread of the Iranian Islamic revolution; today, less than a decade later, the number of centers has grown to more than 100.
Venezuela President Nicolas Maduro and Iranian Foreign Minister Javad Zarif
צילום: Reuters
Iran and Hezbollah have likewise converted and radicalized thousands of Latin Americans to Shia Islam. This according to testimony at a United States House of Representatives panel hearing on Iran's global terrorism network on April 17, 2018. Culturally, Iran has helped Hezbollah establish itself as the dominant force among Shia Muslim communities throughout Latin America, and has taken control of their mosques, schools, and cultural institutions.
In seeming contrast to Iran's religious/spiritual enrichment activities in the region, Hezbollah has also become a substantial international crime syndicate, utilizing its position in Latin America to deal in drug trafficking, weapons trafficking, human trafficking, counterfeit trade, and money laundering, the proceeds of which it uses to finance its activities. Bergman quoted one expert recently describing Hezbollah as "the gold standard" of the crime-terror convergence.
In 2008, the US began a secret law enforcement project, Operation Cassandra, to stop Hezbollah's activities in Latin America. According to a Politico exposé, however, the Obama administration obstructed the operation:
"In practice, the administration's willingness to envision a new role for Hezbollah in the Middle East, combined with its desire for a negotiated settlement to Iran's nuclear program, translated into a reluctance to move aggressively against the top Hezbollah operatives, according to Project Cassandra members and others."
Iran's regional efforts are not limited to the export of mayhem, however. Iranian Foreign Minister Mohammad Javad Zarif went on a tour of six Latin American nations in 2016 resulting in, among other things, access to Venezuelan territory to advance Iran's solid rocket-fuel production. Mahmoud Ahmadinejad, then president of Iran, visited Latin America six times during 2005-2012.
Ahmadinejad pays tribute to late Venezuelan President Hugo Chavez in Caracas
צילום: Reuters
"The question," Bergman ends with, is "whether the US government will adopt a comprehensive strategy to counter the ongoing efforts of Iran and Hezbollah to solidify their base of operations in Latin America against the United States and US interests. Such a strategy, as pointed out by several experts at the April 17 hearing, does not currently appear to be in place."
Venezuela's President Maduro welcomed by Iran President Rouhani, Teherann
צילום: Reuters