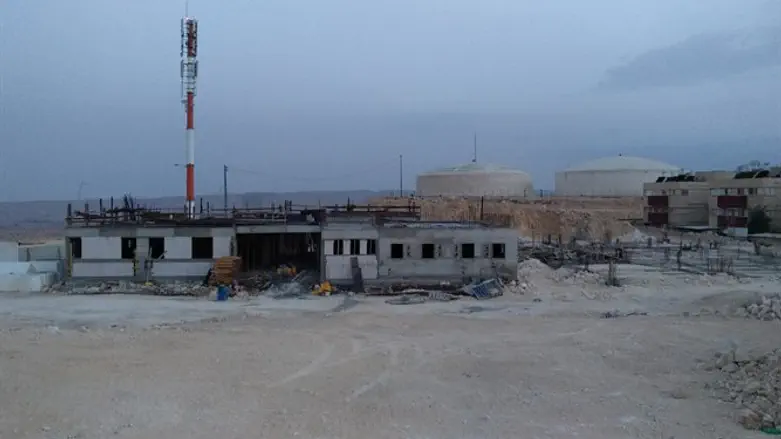 Constructing the yeshiva's new buildings
Dimona yeshiva
Anyone who has lived in Dimona for over eighteen years cannot help noticing the city's growth in every area: real estate, culture, education, and the city's spiritual development.
Thirty years ago, Rabbi Dovid Turgeman returned to the city of his birth after studying in Jerusalem, where he had finished his studies for the Rabbinate. He decided to settle in Dimona, building his home and community together with his wife Penina and their children.
Today, Rabbi Turgeman serves as a much-beloved neighborhood rabbi, and heads the city's hesder yeshiva and "Torah Seed Group."
A "Torah seed group" is a group of religious families which forms a community, to bring Torah and religious Jews to less popular areas.
In addition to the hesder yeshiva, Rabbi Turgeman also founded a high school yeshiva, a religious girls' high school, a Torah education center for women, a pre-military academy, a youth club, and many other initiatives, which serve Dimona's community and contribute to the city's Torah, education, and culture.
"Values, a mission, ideals, caring and sensitivity, and other buzzwords - they're not wall decorations," Rabbi Turgeman said. "These values are engraved in the walls of the yeshiva, and these walls, from the time I studied in elementary school until today, when I teach my students there - are soaked in the values we received from Rabbi Akiva: To love your neighbor as yourself, which is a major rule of the Torah. This sentence is the heart of the Torah, and it is engraved in the hearts of the yeshiva's staff, and passes from there to the hearts of the yeshiva's students."
Rabbi Turgeman also noted that the yeshiva is building a new study hall, "so that our students, who come from all over Israel, can learn in normal buildings. Today, the classroom building is in an advanced stage of construction, and we are nearly at the point where we will build a new, special, beautiful study hall, that will beautify Dimona, light up the city, and grant blessing to the city and its residents."
"Every year, students come from all over Israel - from Eilat to Tiberias - to apply to our yeshiva. Unfortunately, many students receive a negative answer, simply because we don't have the space and capacity for all of them. I am sure that this yeshiva, whose reputation precedes it in the Religious Zionist world, is an honor for Dimona.
"The Torah deserves to dwell in the most worthy place possible, and our students deserve the best conditions, which will allow them to grow and develop with great love."
The new study hall has not yet been built, but the planning is already in its advanced stages.
"This project is being carried out in close cooperation with the Education Ministry and the municipality. Regarding the actual construction, we are currently collecting the necessary resources. Thank G-d, we have partners who are working with us, and we owe them a great thank you. Obviously, we would be happy to have additional partners," Rabbi Turgeman noted.
"We are working to develop people who care about their friends, their neighbors, their city, and their nation. This is what will accompany them every day, everywhere they go. This is the Torah, which develops and invites people to be truthful and straight, with spiritual aspirations and a pure and loving heart."
Dimona's high school yeshiva will begin a fundraising campaign on Tuesday, at 4:00p.m. Israel time. All funds will go to building the yeshiva and its study hall.