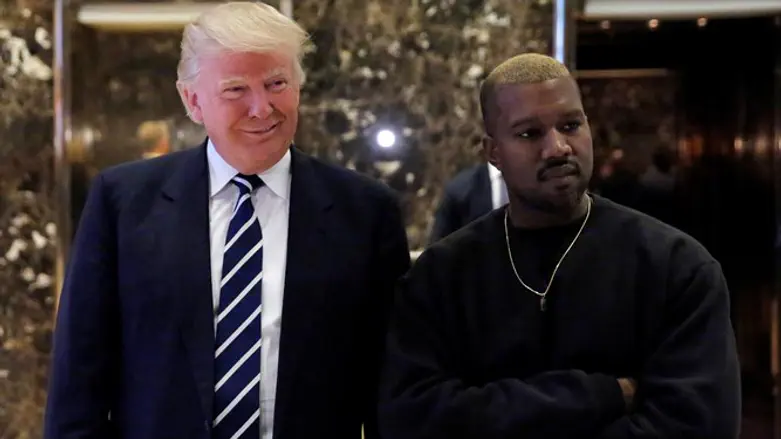 Donald Trump meets with Kanye West following 2016 election win
REUTERS
President Donald Trump's approval rating hit a record high, a new poll shows, fueled in large part by a jump in support from African American voters.
After being mired in the low 40s and high 30s, President Trump's approval rating surged to 49% according to the latest Reuters/Ipsos poll, which was released on Friday.
The survey marks an eight-point increase for the president among registered voters over the previous Reuters/Ipsos poll released in late April. This also marks the highest approval rating registered in the poll for President Trump since he took office in January, 2017. His previous record was 48%.
Forty-nine percent of registered voters disapproved of the president's job performance.
Another recent poll, conducted by Rasmussen Reports, placed the president's job approval at 51% among likely voters, compared to 49% of likely voters who disapproved of his job performance.
An average of polls conducted since late April gives the president an aggregate approval rating of 44.4%, his highest since early March 2017, according to RealClearPolitics. Among the four polls conducted in May, Trump's job approval averaged 46.5%, compared to 51.3% disapproval.
In an address at the annual National Rifle Association convention in Dallas on Friday, President Trump credited a surge in support from African American voters for the spiking poll numbers.
Trump suggested that rapper Kanye West, who issued a series of social media comments in late April in support of Trump, was at least partially responsible for the shift.
"We are both dragon energy. He is my brother," West wrote in one tweet.
"Kanye West must have some power, because you probably saw, I doubled my African-American support numbers," Trump said on Friday.
"I went from 11 to 22 in one week," Trump continued, citing the Reuters five-day rolling average.
Since then, President Trump's job approval among African Americans has increased to 25% in Reuters' five-day rolling average.
Critics of the president pounced on West's comments, denouncing his criticism of President Obama and pro-Trump social media posts.
But the backlash against West for his support of Trump was itself criticized by some for pigeonholing African Americans.
"Black people don't have to be democrats," tweeted Chancelor Bennet, also known as Chance the Rapper, who backed President Obama in the past and had himself voiced criticism of President Trump.
While Trump's approval ratings among black voters remains strongly negative, they nevertheless represent a significant shift.
Eight percent of African American voters backed Trump in the 2016 election, up from six percent of black voters who supported Mitt Romney in 2012 and four percent of African Americans who voted for John McCain in 2008.