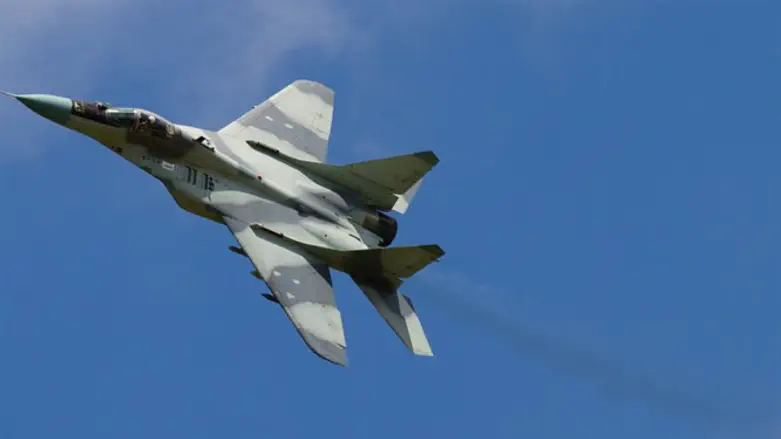 MiG 29 fighter jet (stock image)
iStock
Israeli forces came close to shooting down a Russian military aircraft which nearly entered Israeli airspace several years ago, former Israeli Defense Minister Moshe Yaalon revealed in an interview with a Russian media outlet over the weekend.
Speaking with Russia's RIA Novosti in an interview published Saturday, Yaalon discussed the origins of the so-called Israel-Russia "hot-line", which allows military officials from the two countries to coordinate in real-time, and avoid accidentally harming each other's forces.
Russia, a patron of the Assad regime with ties to Iran, has maintained a significant military presence in war-torn Syria, with the aim of bolstering government forces during the now 8-year-old civil war. Russian began direct military intervention in Syria in mid-2015, following an appeal by Bashar al-Assad for assistance.
That presence has complicated Russia's relationship with the Jewish state, which has clashed with Syria and Iranian forces stationed in Syria.
In the fall of 2015, Israel and Russia established a "hot-line" between the IDF and Russian military, with the aim of allowing commanders in the two militaries to work together to avoid "misunderstandings".
"It saves lives," Yaalon told RIA Novosti, "because it helps us avoid misunderstandings."
Yaalon cited an incident at the beginning of the Russia's direct intervention in Syria in September, 2015, which nearly ended in the shooting down of a Russian jet over the Golan Heights.
"At the beginning of Russia's presence [in Syria], there was an incident in which a Russian pilot almost crossed into our airspace over the Golan Heights. If it had been a Syrian plane, we would have [shot] him down. But then we realized that it was a Russian plane, and we used the hot-line to contact [Russia]" to tell them "'Your plane is about to enter our airspace. Be careful.'"
"The crisis was immediately resolved. But had it been a Syrian aircraft instead, we would have probably shot it down."