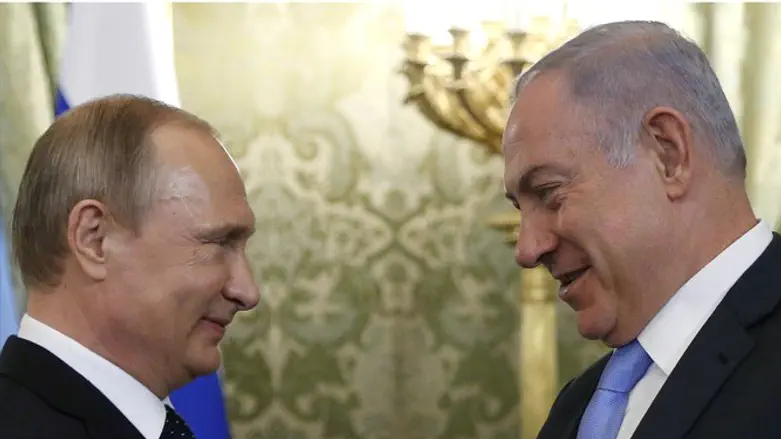 Russian President Putin (L) welcomes Israeli PM Netanyahu at Kremlin June 7, 2016
Reuters
Israeli Prime Minister Binyamin Netanyahu will meet Russian President Vladimir Putin in Moscow next week, the premier's office said, ahead of a possible US withdrawal from the Iran nuclear deal.
The Wednesday meeting will discuss "regional developments," Netanyahu's office said, and follows the Israeli leader's unveiling of proof of Iran's alleged past military nuclear ambitions.
Putin invited Netanyahu to join him at the parade for Victory Day over Nazi Germany. The leaders will meet at the Kremlin after the parade, in a continuation of their phone call discussing the "Iran deal" and the situation in Syria earlier this week.
A televised presentation by Netanyahu on Monday was followed by phone calls to world leaders, including to Putin, in which the two discussed the Iran nuclear deal, as well as the situation in Syria.
Putin -- whose troops are backing the Syrian regime -- has called on Netanyahu not to destabilize the situation, as Israel looks to prevent Iran and its Hezbollah proxy cementing their military presence.
Russia meanwhile has reiterated its support for the Iran nuclear deal, with Putin telling Netanyahu it was "of primary importance for ensuring international stability and security" in their Monday phone call.
US President Donald Trump and his Middle East allies argue that the agreement, approved by former US President Barack Obama, was too weak and needs to be replaced with a more permanent arrangement and supplemented by controls on Iran's missile program.
Trump has threatened to abandon the agreement when it comes up for renewal on May 12, demanding his country's European allies "fix the terrible flaws" or he will re-impose sanctions.
Netanyahu has repeatedly called for the accord -- which Iran signed with Britain, China, France, Germany, Russia and the United States -- to either be altered or scrapped, pointing out that the agreement does not prevent Tehran from eventually obtaining nuclear weapons and says the lifting of sanctions has increased Tehran's ability to finance proxy militants in the Middle East.
Iran has always denied it sought a nuclear weapon, insisting its atomic program was for civilian purposes.
Besides Putin, Netanyahu discussed the Israeli findings and the Iran nuclear deal with his Australian, British and Indian counterparts, as well as with French President Emmanuel Macron and German Chancellor Angela Merkel.